TIFF Tuesday, September 10th
Coverage by Dan Krovich
September 19, 2002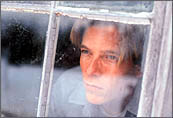 Moonlight Mile:
While a film about a young man mourning the death of his fiancée and parents mourning the death of their daughter may sound like a depressing proposition, Moonlight Mile manages to be a more lighthearted look at grieving and moving on with your life. The film may have gone too slight, though, and it ultimately qualifies as a pleasant diversion. The film is generally entertaining, with good performances from Oscar winners Dustin Hoffman and Susan Sarandon as well as Jake Gyllenhaal, but it is newcomer Ellen Pompeo who steals the film.
Fálkar (Falcons)
Keith Carradine stars as an ex-con who returns to Iceland 30 years after his last visit. Though he is running away, looking to escape, it may turn out that he is really running towards something when he meets up with the free-spirited Dua, a performance artist who is nursing an injured falcon back to life. Though the film begins promisingly, it quickly becomes overly predictable. It's not an issue that the movie is necessarily bad, it's just that you can see every plot point coming a mile away, so just a so-so movie.
Im Toten Winkel. Hitlers Sekretärin (Blind Spot. Hitler's Secretary)
There really isn't much to say about this film as it is simply an interview with Traudl Junge, who was one of Hitler's private secretaries during the latter stages of World War II. There is no footage other than the interview footage, and since it is subtitled, the viewer, if he doesn't understand German, is simply reading the movie. Still, because of what she witnessed, it remains compelling, even if it's not the most visually interesting film.
G
Summer G is the biggest hip-hop mogul of the moment. His record label is hugely successful, young artists look to him as a mentor, and he hosts lavish parties at his mansion in the Hamptons. He seems to have it all except love, of course. When it turns out that the cousin of the man who is in town to interview him is his former flame, old feelings are rekindled. The problem is that she is married, and her husband has a short temper. All the elements are there for melodrama and tragedy, and that is what is delivered. The film suffers from moments where it feels like it is moving in circles to waste some time instead of necessarily advancing the plot, but they are generally few, and the good outweighs these relatively minor flaws.
Try Seventeen
A delightful coming-of-age comedy that is very funny and throws just enough twists into the often-stale genre to stand out. Elijah Wood, without the hairy feet, plays an incoming college freshmen who decides to forego the dorm life and moves into a house off-campus, where he befriends the eclectic group of people who share the house with him. Jeffrey Porter's film steers clear of the easy, low-brow gags and instead scores with more intelligent and literate humor. Winning performances round out this very entertaining comedy.
My Little Eye
Five strangers are picked to live in a remote cabin and be filmed 24/7 for the Internet. If they can all last for six months, they win a million dollars; if any one of them leaves, they all lose. In the last week of the contest, strange things begin to happen. Is it the company trying to scare them out of the house to avoid paying out the cash, or is someone or something out to get them? A very stylish horror film that uses the Web-cam aesthetic and great sound design to heighten the tension, and unlike many horror movies, is actually very effective at being scary. My Little Eye pulls of the rare feat of making a good movie featuring both the Internet and reality entertainment.
Preamble
Friday, September 6th
Saturday, September 7th
Sunday, September 8th
Monday, September 9th
Tuesday, September 10th
Wednesday, September 11th
Thursday, September 12th