TIFF Friday, September 6th
Coverage by Dan Krovich
September 19, 2002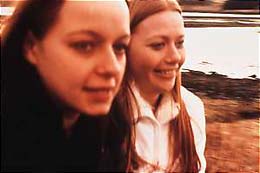 As is my modus operandi, I left too many things to do for the night before my flight to Toronto, resulting in only getting two hours of sleep. The trip was uneventful, though the airports seemed eerily empty. After getting to downtown Toronto (most of the festival takes place in the area around the intersection of Bloor and Yonge streets), I pick up my tickets and realize that I have a busy day already, including a midnight screening that night. Still, I decide to try my luck at standing in a rush line to add a film to my schedule.
Russian Ark
What will probably receive the most note about this Russian film is the technology developed so that the film, which consists of one 96-minute shot, could be accomplished. Seeing as I am a sucker for long Steadicam shots, I was intrigued, but I was also a bit concerned that the essentially plotless film could be a gimmick that would grow old quickly. The film consists of two ghostly figures who wander through the Hermitage Museum in St. Petersburg, Russia. Beyond visiting the vast art collection, they also wander through time, witnessing various events in Russian history. The technical aspects of the film are amazing. It looks beautiful, and the choreography involved in pulling off this film that features over 2,000 extras is simply incredible. Though some knowledge of Russian history would be helpful, this visually stunning film that provides a trip through one of the most impressive museums in the world can be enjoyed even if you can't name a single tsar.
Morvern Callar
The title comes from the name of the main character (and the novel by Alan Warner). The film begins with Morvern waking on Christmas morning to find that her boyfriend has committed suicide, leaving his just-finished novel on the computer for her to get published as his final wish. While that may sound like the beginning of a Lifetime Movie of the Week, Lynne Ramsay's film goes in an entirely different direction. The plot is fairly loose and more existential in nature, as Morvern doesn't exactly have a character arc as much as she simply is. The film is propelled by a great soundtrack and by the performance of Samantha Morton in the title role. Morton has established herself as one of the most gifted actresses working today with her ability to express so much without saying a word.
One Night the Moon/Baadasssss Cinema
A double featurette where the two movies were connected by their both dealing with issues of race. One Night the Moon is based on the true events (also covered in the documentary, Black Tracker) of a young girl who went missing in the Australian Outback in 1932. The folky songs were decent, but maybe it was simply the lack of sleep catching up with me, as I found it repetitive and tedious. I could only take watching a man wandering around the Outback for so long before it became dull, even if he was singing. Baadasssss Cinema, on the other hand, was a very entertaining primer on the blaxploitation films of the 1970s. A little light on the social implications, it instead celebrates the genre through interviews with participants, film critics, and fans.
Spun
Going to a midnight screening on two hours of sleep is just asking for trouble. When the lights go down, it is too easy to doze off if the movie lapses for even a moment. Spun suffered from no such problems. I would have thought that drug movies were completely played out, and Spun isn't completely original, borrowing from recent films such as Requiem for a Dream and Go, but it is high energy, very funny, and extremely entertaining. The film, which follows the exploits of a group of crystal meth addicts (played by Jason Schwartzman, Brittany Murphy, Mena Suvari, John Leguizamo, Patrick Fugit, and Mickey Rourke), will need significant trimming in order to get an R rating, however.
Preamble
Friday, September 6th
Saturday, September 7th
Sunday, September 8th
Monday, September 9th
Tuesday, September 10th
Wednesday, September 11th
Thursday, September 12th