TIFF Thursday, September 12th
Coverage by Dan Krovich
September 19, 2002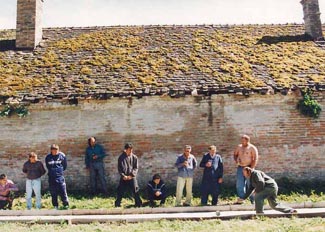 The Nugget
The Australians seem to have the light-hearted comedy formula down pat, as The Nugget would fit nicely beside recent exports from Down Under, The Castle and The Dish. The Nugget follows three roadworkers, played by Eric Bana, Stephen Curry, and Dave O'Neil, who find a giant gold nugget. This should be the answer to all their problems, but of course it turns out to be just the beginning of the downfall for these simple men. The three stars, who have worked together in the past as comedians on Australian television, have great chemistry together, and this charming fable is entertaining and funny throughout.
El Crimen del Padre Amaro (The Crime of Father Amaro)
The big box office hit in Mexico this year may seem particularly topical, as it examines corruption in the Catholic Church, so it is somewhat ironic that it is based on a book that was published in 1875. Gael García Bernal (Y tu mama tambien) stars as a young priest who is assigned to a small town where the parish is in the midst of controversy. Though good intentioned, he gets caught in the dilemma of trying to do good but also sticking to the strict rules of the church. Strong performances reveal why this film was so popular above and beyond the controversy.
Julie Walking Home
Though the plot could ultimately be described as one woman's journey that begins when she comes home to find her significant other (with whom she has two children) in bed with another woman, that doesn't begin to describe this film. Part domestic drama, part exploration of the mystic realm of faith healing, and part love story, Julie Walking Home covers a lot of ground. While doing so, it meanders at moments, but for the most part it adds depth to this character study.
Hukkle
A beautiful and brilliant first film from Hungarian director György Pálfi. It begins simply with an old man with a bad case of the hiccups. He sets the rhythm as the camera then wanders through a small village, paying visits to the many people and animals that inhabit it. The film contains no dialogue (though the soundtrack is intricate), and at first it seems like a bunch of unconnected, pretty images until it becomes apparent that there is a story being told. The film is ultimately a mystery and was a pure delight to have as the final film of my 2002 Toronto International Film Festival experience.
Preamble
Friday, September 6th
Saturday, September 7th
Sunday, September 8th
Monday, September 9th
Tuesday, September 10th
Wednesday, September 11th
Thursday, September 12th