TIFF Monday, September 9th
Coverage by Dan Krovich
September 19, 2002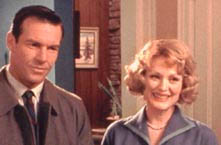 Far From Heaven
Todd Haynes' latest is an homage to the 1950s melodramas of Douglas Sirk. Instead of simply taking one of Sirk's films and updating it and remaking it, Haynes travels back in time to make a film of his own in that style. Everything from the cinematography, set design, musical score, dialogue, and even acting are appropriated to make a film about an upper-middle-class housewife whose perfect life begins to unravel. It takes a little time to become acclimated to the style, but once you let yourself into the world it is a wonderful film. Though it's impossible not to laugh at some of the attitudes and conventions of the time and style, the film is remarkably lacking in irony. This is not a parody of the style, but a loving tribute that succeeds at playing to a modern audience.
Laurel Canyon
Great performances mark Lisa Cholodenko's follow-up to High Art. Sam (Christian Bale) and his fiancée Alex (Kate Beckinsale) are graduates of Harvard Medical School. They move to Los Angeles so Sam can begin his residency while Alex will work on finishing her thesis. For convenience, they will stay at Sam's mother's house while she is out of town. When they arrive, however, Mom (Frances McDormand) is still there, recording a way-behind-schedule album for a rock band headed by her much younger boyfriend, Ian (Alessandro Nivola). In a role reversal of the normal situation, it is the straight-arrow son who has the conflict with his free-spirited mother, while his bride-to-be becomes enticed by the sex, drugs, and rock-and-roll lifestyle. Like several films at the festival, this engaging film also sports a great soundtrack.
Yadon Ilaheyya (Divine Intervention)
We're going to have to chalk this one up to I just didn't get it. The film won an award at Cannes and it seemed like the rest of the audience enjoyed the film quite a bit. The film, from Palestinian director Elia Suleiman, is an absurdist political satire that approaches the Palestinian-Israeli conflict with humor. While I generally subscribe to the idea that you can often shed more light on an issue through comedy than through preaching, I just didn't find the film all that funny.
Jukeodo Jo A (Too Young to Die)
Some films strive for ultra-realism, where the film is less about story than it is about showing a slice of life. This film, about a Korean couple who find love in their 70s, is such a film. Played by a real-life couple and based on their own experiences, instead of writing out a script, we simply watch them do things such as teach each other to sing and write, do the laundry, and have sex. I don't mean that there is a filmed love scene. Yes, I really mean they set up the camera and there is one single, seven-minute take of the couple actually having sex. While I'm all for septuagenarian Koreans having sex, it's not something I particularly want to watch. Combined, I estimate that one-third of the 67-minute film was the couple having sex.
Preamble
Friday, September 6th
Saturday, September 7th
Sunday, September 8th
Monday, September 9th
Tuesday, September 10th
Wednesday, September 11th
Thursday, September 12th