TIFF Saturday, September 7th
Coverage by Dan Krovich
September 19, 2002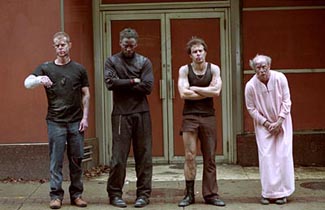 The Intended
Director Kristian Levring leaves behind the strict Dogme 95 rules, and heads off into the lush jungle of Malaysia in this tale that recalls Conrad's Heart of Darkness. A young surveyor and his intended bride arrive at a remote outpost in 1924. He is there to layout a road for "The Company" for which they all work. The couple has walked into a volatile situation, as they are isolated at the outpost until the rainy season refills the dried-up riverbed to provide the only way out. Unfortunately, the slow build in this case is more slow than build, as the film loses steam during the second half and is ultimately not as lush as the jungle it takes place in.
Lost in La Mancha
As Terry Gilliam was in pre-production to make a film version of Don Quixote, he faced some of the normal moviemaking difficulties: Dealing with a relatively small budget, difficulties scheduling his stars for rehearsals and costume fittings, etc. Filmmakers Keith Fulton and Louis Pepe were on hand to document what goes on during the pre-production of making a movie. What they wound up documenting was all the things that can go wrong to prevent a movie from being made. Weather, health, budgetary concerns, and even the military seemed to conspire against Gilliam and the film was ultimately never made. The documentary plays like a tragicomedy, as you have to laugh to keep from crying as everything falls apart, but it remains informative and entertaining throughout.
Welcome to Collinwood
Produced by Steven Soderbergh, this is sort of the anti-Ocean's 11, as here a group of dolts try to pull off a can't-miss heist. Of course in this case, things go horribly awry. The film boasts a talented cast (Sam Rockwell, William H. Macy and George Clooney, among others), but unfortunately it generally falls flat. Once the actual heist gets underway, things pick up a bit, but it is a matter of too little too late. On the whole it is simply an average comedy with a few laughs, but not much more.
Bubba Ho-Tep
Bruce Campbell plays an aging Elvis hiding out in an old folks' home in Texas who must do battle with an ancient Egyptian mummy. It sounds like it couldn't go wrong, but the film ultimately was somewhat disappointing. The disappointment may have had something to do with expectations of another Evil Dead-style film based on Campbell's starring turn, while Bubba Ho-Tep is more subtle than that. Still, bogged down by those expectations, Bubba Ho-Tep feels rather slow. Still Campbell and Ossie Davis (as John F. Kennedy) give great performances, so if you alter your expectations, there are things to like about the film. Also, Bruce Campbell's post-screening question-and-answer session was worth the price of admission all by itself.
Preamble
Friday, September 6th
Saturday, September 7th
Sunday, September 8th
Monday, September 9th
Tuesday, September 10th
Wednesday, September 11th
Thursday, September 12th