Before I move on to the Mac Widget of the Week, I should note that Yahoo! is now offering Widgets to users of both Windows and Mac users. It's free to registered Yahoo users, and can be found at
Yahoo! Widgets
.
This week's Mac Widget is
The Flux 3-Word Movie Review
. Coming from the indie Web site
The Flux
, this little widget allows you to browse hundreds of different movie reviews and get the quick skinny on any of them. They'll also give you a rating - for example, Crouching Tiger, Hidden Dragon gets 4.5 out of 5 "fluxers". Every time you enter Dashboard, it will refresh with a brand new review. It's a simple little gadget but very cute and plenty informative.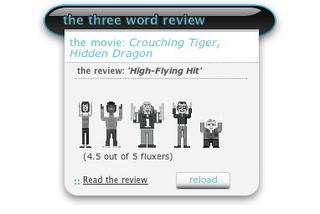 Widget of the Week