Today, I thought I'd highlight a couple of unusual things deserve praise.
The first is Louisiana artist
George Rodrigue
, whom I discovered back in the early '90s. He has studios in Carmel, California and also in New Orleans (I've been there!). He's probably best known for the Blue Dog paintings, which I just love. Someday, I'd love to be independently wealthy enough to afford one or two of them.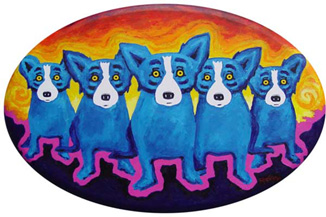 The other item isn't exactly new, but if you own a GameBoy Advance and don't have the game, I have to insist you purchase
Final Fantasy Tactics Advance
right now. After unfortunately getting rather quickly bored with the newest Harvest Moon game, I went back to this one and it's possibly even more enjoyable the second time around. I think I'm just a huge sucker for any and all tactics-related games. Which means I'm getting even more desperate for a game I've mentioned once before -
La Pucelle Tactics
. Once I have the "videogame room" all set up, it will be mine.
Finally, on the recommendation of a number of people I trust, I picked up the book
Sunshine
by Robin McKinley for cheap at a book sale. It's a great read for anyone who enjoyed Buffy the Vampire Slayer or Angel, or really just anyone who likes vampire stories in general.
Oh, and one last thing I nearly forgot. Over the weekend, my father acquainted me with the music of the
Blind Boys of Alabama
, a gospel/soul group that is just fantastic. I'd recommend starting with their album
Spirit of the Century
for those interested.