Tsui Hark's Seven Swords
premieres
at the
Venice Film Festival
. New wuxia is OK by me.
Animation Conservation has a
nice chat
with the guy in charge of the puppets for Tim Burton's
Corpse Bride
.
Back when I wasn't a crusty old grouch, I used to go to things like this
24 hour horror marathon
. And I lived to tell about it, too.
The inimitable Kit Gavin
reviews
Mondo Macabro's excellent disk of The Girl Slaves of Morgana Le Fey<.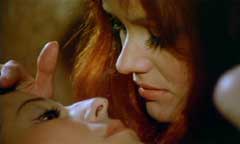 Manga to Film Department: The film version of the book
Cromartie High School
gets a
review
.
Are
ritzy theaters
the solution to the box office "crisis"? Sell crab stuffed artichoke at your theater, and the world will beat a path to your door. Uh huh.
This looks cool: the
Starlight Drive-in
in Atlanta is having a Labor Day festival called
Drive Invasion
with movie gems like
Count Yorga Vampire
,
The Big Doll House
and
Dr Phibes Rises Again
. Special guests:
Jack Hill
and
Sid Haig
. (Hat tip to
DVD Drive-in
).
George Romero
talks a bit
about the Land of the Dead DVD as well as some rumblings about Diamond Dead.
The blogosphere loses a good one, as George Fasel of
A Girl and a Gun
goes to the big screening room in the sky.
Twitch goes
link crazy
over the news of the official website for Tokyo Zombie going live. This one's from a manga by
Yusaku Hanakuma
.
OK, then. Enough with the wallowing on the death of a treasured cat. Surely, there's other, better stuff going on in the world? Of course there is.
Things on the movie front remain a bit slow, though I seem to be bit by bit working back into watching some DVD's on an occasional basis. For some foolish reason I watched
Constantine
, and it was every bit as awful as I should have expected. I've never read the
comic
, but I sure hope that it's higher quality than this Keanu driven dreck. On the higher quality front come two great
Shaw Brothers
films:
Avenging Eagle
and
Dirty Ho
that I bought of late, both of which were top notch. This latter
Lau Kar Leung
vehicle was especially good, even if it did lack the generally standard sharp and strong female character that usually characterizes his movies--it's a shame that
Kara Hui
only makes a brief appearance in this one. (It's got
Lo Lieh
and
Gordon Liu
though, so no big deal). On the documentary front, I did also just view the Ramones documentary
End of the Century
, which is a nice portrait of those punk pioneers. Now, if only
We Jam Econo
would hit the shelves, I'd be all set. The only other disk viewing done recently here at Hyde house is watching a couple remaining episodes from my
Columbo Season Two
set so that I can make room for
Season Three
. I just love me some
Peter Falk
.
From the auditory front: recent disk spinning consists mainly of stuff from the past like
Eccentric Soul: The Bandit Story
,
Merle Travis and Joe Maphis
and the new reissue of Can's
Future Days
. On the say so of many, I also picked up last year's reissue of Arthur Russell's
World of Echo
but I'm not all that convinced that I like it very much thus far. Rounding out recent music listens is the
Space 1999
soundtrack the the SO bought and that has a couple of really killer tracks on it.
The reading thing is still utterly dominated by comics these days--all of my spare spending money has recently been put to work in this area, and I've even been hitting the library to ease the pain since my local public has a great selection of this sort of thing. That angle has let me test out Ted Naifeh's
Courtney Crumrin
, Image's
Flight Volume Two
and the classic Lee/Kirby
Essential Fantastic Four Vol 2
. And it's a good thing that I got to read those for free, since the purchase side of the ledger looks quite hefty over the last month:
Drawn and Quarterly Showcase Three
,
Mome
, Aaron Renier's great looking
Spiral Bound
,
Yotsuba&! 2
,
The Pin Up Art of Bill Wenzel
, the newest volume in the truly awesome
Scott Pilgrim
series,
Bete Noire
,
Jiro Taniguchi
's
Times of Botchan
...and I could go on. Especially worthy of mention in this space as well are two other Fantagraphics numbers worthy of note to anyone interested in the medium:
Comics Journal 269
, wherein TCJ attempts to make amends for years of overlooking manga and
Comics Journal Library #5: Classic Comics Illustrators
.
This last item collects interviews done with a host of great craftsmen--
Russ Heath
,
Mark Schultz
,
Russ Manning
,
Frank Frazetta
and
Burne Hogarth
. The edition is profusely illustrated with great looking pieces of all the artists's work, and though I've only made it through the Hogarth interview, there's plenty of meat there alone to chew on. The great
Tarzan
scribe details his fascinating life and winds his way through opinionated reminscences and artistic influences (some of which have me scrambling to find out who people like
Suzuki Harunobu
,
David Siqueiros
,
Polycleitus
,
Rollin Kirby
and
Verrocchio
were). This sprawling, discursive interview ranges far and reaches some dubious conclusions--most pointedly Hogarth's general agreement with the stance of notorious comic history figure
Frederic Wertham
--but there's so much of worth covered in this lengthy piece that it's no use quibbling over that. Chock full of material and gorgeous pictures, if all of the interviews in this thing turn out as insightful as the first this newest addition to TCJ's library series might be one of the best things I bought recently.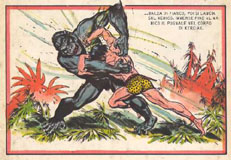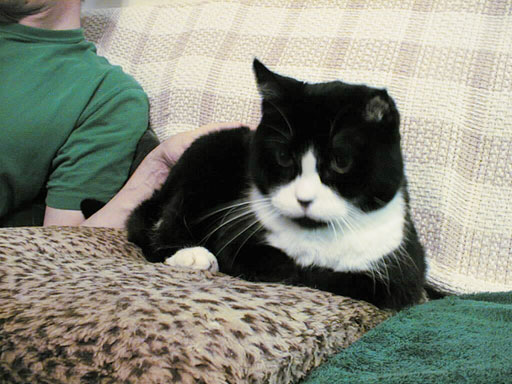 This post dedicated to Spaz, who watched movies with me for many, many years. Farewell, old pal.