25 times a second
A feast in a time of plague.
Friday, July 30, 2004
Word is in that familiar voice Jackson Beck has died. If you don't recognize the name, rest assured you'd recognize his dulcet tones--the voice actor was Bluto for hundreds of Popeye cartoons, did lots of advertising work and is also famous for uttering the signature "It's a bird...it's a plane....it's Superman!" for the Supes radio show in the forties. Another prominent Beck role was as the voiceover narrator in Woody Allen's hilarious Take the Money and Run.


Here's an interesting piece from the Guardian detailing five films by a quintet of world class directors that never quite got off the ground.


And what with that live action Thunderbirds movie hitting screens today, it seems a propituous time to honor Gerry Anderson, the man behind the original series.


Another note from the British Empire is that the programme for London's Fright Fest has been posted. Looks like lots of quality material--I'm really looking forward to The Machinist, myself.


Richard Corliss surveys the Japanese horror that Hollywood has decided to co-opt and makes a plea for watching the originals. Then again, with the news that Hideo Nakata will remake Sidney Furie's The Entity, maybe some other bastard Japanese/American stepchildren films are on the way. Here's hoping the new version is as interesting as Peter Tscherkassky's take on it was.


Also in Asian horror news, the Korean doll movie Inhyongsa (Doll Master) is out in its native country, though this review is fairly noncomittal. Me, I'm already petrified.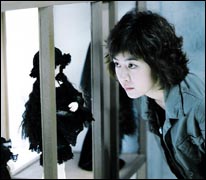 Thursday, July 29, 2004
Wednesday, July 28, 2004
Tuesday, July 27, 2004
Monday, July 26, 2004
Sunday, July 25, 2004
Friday, July 23, 2004
Thursday, July 22, 2004
Wednesday, July 21, 2004
Tuesday, July 20, 2004
Monday, July 19, 2004
Sunday, July 18, 2004
Friday, July 16, 2004
Thursday, July 15, 2004
Wednesday, July 14, 2004
Tuesday, July 13, 2004
Monday, July 12, 2004
Saturday, July 10, 2004
Friday, July 09, 2004
Thursday, July 08, 2004
Wednesday, July 07, 2004
Tuesday, July 06, 2004
Monday, July 05, 2004
Friday, July 02, 2004
Thursday, July 01, 2004
Archives
04/01/1990 - 04/30/1990 05/01/2003 - 05/31/2003 06/01/2003 - 06/30/2003 07/01/2003 - 07/31/2003 08/01/2003 - 08/31/2003 09/01/2003 - 09/30/2003 10/01/2003 - 10/31/2003 11/01/2003 - 11/30/2003 12/01/2003 - 12/31/2003 01/01/2004 - 01/31/2004 02/01/2004 - 02/29/2004 03/01/2004 - 03/31/2004 04/01/2004 - 04/30/2004 05/01/2004 - 05/31/2004 06/01/2004 - 06/30/2004 07/01/2004 - 07/31/2004 08/01/2004 - 08/31/2004 09/01/2004 - 09/30/2004 10/01/2004 - 10/31/2004 11/01/2004 - 11/30/2004 12/01/2004 - 12/31/2004 01/01/2005 - 01/31/2005 02/01/2005 - 02/28/2005 03/01/2005 - 03/31/2005 04/01/2005 - 04/30/2005 05/01/2005 - 05/31/2005 06/01/2005 - 06/30/2005 07/01/2005 - 07/31/2005 08/01/2005 - 08/31/2005 09/01/2005 - 09/30/2005 10/01/2005 - 10/31/2005