25 times a second
A feast in a time of plague.
Wednesday, June 30, 2004
Johnny Depp has joined the voice cast of Tim Burton's The Corpse Bride, the director's return to stop-motion animation. I don't think I've liked a Burton movie since The Nightmare Before Christmas, so I'm glad he's gone back to the world inspired by Rankin/Bass, myself.


Well, it's another big day for Montrealers and fantastic film fans, as the films for Fantasia fest have been put on the web. There's a boatload of good stuff here--beginning with the spotlights on Thai cinema (including Oxide Pang's The Tesseract), Korean cinema (stuff like Sword in the Moon and Natural City et cetera) and Japanese film (with a couple Miike numbers as well as Angel's Egg, Battlefield Baseball and the really bizarre looking The Calamari Wrestler). If that wasn't enuff, there's also cool spotlights on Paul Naschy and the Shaw Brothers (don't miss The Eight Diagram Pole Fighter). And that's certainly not all, 'cuz there's all kinds of other potential gems that you'll find in perusing the sked: Chris Fisher's The Hillside Strangler, the Brit entry The Last Horror Movie, A Journey Into Bliss by Wenzel Storch, Haute Tension and even a retrospective screening of the infamous underground film Thundercrack. There's other stuff there that I've overlooked (and we'll likely return and examine some of this material later) so be sure and check out the site for yourself.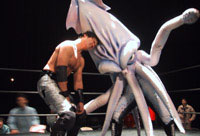 Tuesday, June 29, 2004
Monday, June 28, 2004
Sunday, June 27, 2004
Friday, June 25, 2004
Thursday, June 24, 2004
Wednesday, June 23, 2004
Tuesday, June 22, 2004
Monday, June 21, 2004
Sunday, June 20, 2004
Saturday, June 19, 2004
Friday, June 18, 2004
Thursday, June 17, 2004
Wednesday, June 16, 2004
Tuesday, June 15, 2004
Monday, June 14, 2004
Friday, June 11, 2004
Thursday, June 10, 2004
Wednesday, June 09, 2004
Tuesday, June 08, 2004
Monday, June 07, 2004
Sunday, June 06, 2004
Saturday, June 05, 2004
Friday, June 04, 2004
Thursday, June 03, 2004
Wednesday, June 02, 2004
Tuesday, June 01, 2004
Archives
04/01/1990 - 04/30/1990 05/01/2003 - 05/31/2003 06/01/2003 - 06/30/2003 07/01/2003 - 07/31/2003 08/01/2003 - 08/31/2003 09/01/2003 - 09/30/2003 10/01/2003 - 10/31/2003 11/01/2003 - 11/30/2003 12/01/2003 - 12/31/2003 01/01/2004 - 01/31/2004 02/01/2004 - 02/29/2004 03/01/2004 - 03/31/2004 04/01/2004 - 04/30/2004 05/01/2004 - 05/31/2004 06/01/2004 - 06/30/2004 07/01/2004 - 07/31/2004 08/01/2004 - 08/31/2004 09/01/2004 - 09/30/2004 10/01/2004 - 10/31/2004 11/01/2004 - 11/30/2004 12/01/2004 - 12/31/2004 01/01/2005 - 01/31/2005 02/01/2005 - 02/28/2005 03/01/2005 - 03/31/2005 04/01/2005 - 04/30/2005 05/01/2005 - 05/31/2005 06/01/2005 - 06/30/2005 07/01/2005 - 07/31/2005 08/01/2005 - 08/31/2005 09/01/2005 - 09/30/2005 10/01/2005 - 10/31/2005