Survivor Casting Spoilers
Discussing Season 34's All Star Cast
By Jim Van Nest
July 6, 2016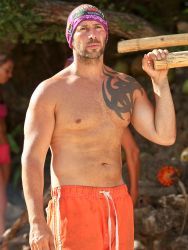 Tony Vlachos (Cagayan) - And there he is. #TeamTV himself. This is, by far, my favorite casting choice of the season and I can't wait to see Tony get out there and do his thing. I think he's in for a surprise when he gets out there with the quality of play in an All-Star season. He's going to have to reach into his bag of tricks and pull out something other than a spy shack if he wants to succeed here. I do love the idea of Tony and Sandra out there together, possibly on the same tribe. She hated Russell with a passion and I wonder what she'll think of Tony. I can already see these two targeting each other. Whatever happens, this season is bound to be more entertaining with Tony involved, so kudos to CBS for getting him.




Troy(zan) Robertson (One World) - Our final known player is another one that's not on my favorites list. Troyzan was one of the more colorful characters on the female dominated One World season. He felt he got a bad shake on that season and he's been trying to get back ever since. He's one of Jeff's favorites as witnessed by the fact that America did NOT vote him into Second Chance but then he was brought back at the very next possible time. That tells me Jeff really wanted him (and Culpepper) back on the show. My only hope is that he'll prove to be an early casualty to Tony or Sandra as they thin the herd to help us get to an interesting and awesome end game. I don't have a lot to say about Troyzan other than I didn't care for his character the first time and I can't imagine he'll take a less is more approach. I don't see anyone putting up with him for long.




And there you have it, kids, a breakdown of the 18 returning players that we've already seen. Don't forget that two people from this fall's Gen X vs Millennials season will also be included in the cast.
Overall, I like this cast and think it has some amazing potential. However, Redmond had put up a spoiler list of the final round of players being considered and in it, I found a nice handful of changes I would have made to make this a more awesome season.
First off, I'd dump Cirie, Ciera and Sierra. I've seen enough of the first two, and the third gave us very little. I'd replace them with Natalie Anderson (Twinnie!) the winner of San Juan Del Sur, Sophie Clarke (the winner of South Pacific) and Carolyn (Mama C) Rivera from Worlds Apart. Natalie and Sophie are underrated winners who could really inject some life and some strategy in this game. Plus, I'd kinda like to see if Sophie and Aubry (Sophie 2.0) could work together. And Carolyn was not only fun, but she was good at the game. Ultimately, I'm sure they booted Mama C when they made the decision to bring Debbie on board. I'd argue that I'd rather see Mama C there as well. But Debbie could be entertaining, so for me, I'd replace Blue Collar Sierra with White Collar Carolyn.