Survivor Casting Spoilers
Discussing Season 34's All Star Cast
By Jim Van Nest
July 6, 2016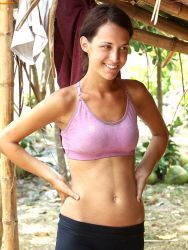 Ciera Eastin (Blood Vs Water, Second Chance) - And here's the first person that makes me say, "Ugh - not again." I'm sure I'll get some hate mail for this 'cause people love them some Ciera, but honestly, I think I've seen what she has to offer. She played a solid game the first time around and gets a lot of credit for voting out her mom (even though her vote wasn't needed - her mom was going home regardless) and I was excited to see her get that Second Chance. But she became unbearable out there in Cambodia. Complaints about people "not playing the game" rang hollow as it was really that they weren't playing the game - WITH HER. I don't expect her to get much traction in a new season as people are leery of her and her constant quest for the *air quotes* Big Move. No one can trust that and I don't expect her to be much of a factor in a new all-star season.




Cirie Fields (Panama, Micronesia, Heroes Vs Villains) - Now I'm really gonna sound like a curmudgeon, as I have no desire to see Cirie play again. She was amazing in her first season and practically unstoppable in her second season in Micronesia. But she flamed out of Heroes vs. Villains and I fear the same results for her here. Bottom line, Cirie has a reputation. She's very strategic and can very easily lie right to your face. In my opinion, she peaked in Micronesia and I don't feel like she has much to offer the show in a fourth appearance. Not when there were a handful of awesome one-timers that were in the mix for this season.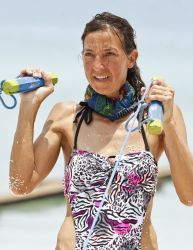 Debbie Wanner (Kaoh Rong)
- This is probably the least shocking of the casting news. As soon as CBS started having fun with Debbie and her jobs, you knew she was coming back. I wasn't a huge fan of Debbie, but she did show a bit of aptitude for the game in Kaoh Rong. What I wonder, though, is whether or not watching herself on TV gave her any self-awareness. If not, she'll have a hard time with this group. I don't expect this group to tolerate nonsense and it could be similar to Fans vs Favorites 2 when Philip's craziness was not welcomed and he was dumped early on. If Debbie can calm down a bit and take it a smidge slower, she might have some staying power. Again, I wouldn't necessarily have cast her again (more on that later) but she was one of the biggest slam dunks once they decided to go All-Stars for S34.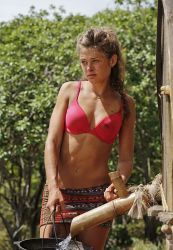 Hali Ford (Worlds Apart)
- And winning the Kelley Wentworth "Who?" award this season will be Worlds Apart's Hali Ford. Even though I included a picture, I have a feeling some of you still won't remember her. She was the No Collar law student who loves the Constitution and named the merge tribe 'Merica. Hali brought very little to the table in her first season as she was overshadowed by Jenn in confessionals and Joey Amazing everywhere else. She has a fantastic opportunity to be the Amber Brkich or Kelley Wentworth of this season. No one will really know how she plays and she could easily slide under the radar and make a couple moves near the end to become a factor. I don't love her inclusion here, but I am intrigued by it. She could definitely be the "where did she come from" player of the season.