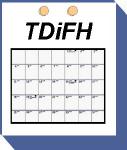 This Day in Film History:
August 17
---
1893:
Sex symbol/actress Mae West is born Mary Jane West in Brooklyn.
1943:
Robert DeNiro is born in New York City.
1960:
Sean Penn is born in Burbank, California.
1979:
Monty Python's Life of Brian debuts in Britain. The controversial film remained banned in Italy until 1991, and in Ireland until 2000.
Source: Forbidden Films
---
Previous Day
Next Day
Random Day
About This Day in Film History
~ ~ ~
Errors & Omissions
---
This Day in Film History: All the rage in Amsterdam.