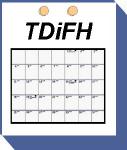 This Day in Film History:
August 16
---
1949:
Author of Gone with the Wind Margaret Mitchell dies in a car accident in Atlanta, Georgia.
1950:
Sidney Poitier and Ruby Dee both make their screen debuts in No Way Out.
1956:
Bela Lugosi dies four days into shooting the infamous Plan 9 From Outer Space. Filming continued, with the chiropractor of director Ed Wood's wife standing in for Lugosi for the remainder of the shoot.
1985:
The paparazzi goes wild as Sean Penn and Madonna marry. They divorce in 1989.
---
Previous Day
Next Day
Random Day
About This Day in Film History
~ ~ ~
Errors & Omissions
---
TDiFH: Now with 40% less MSG