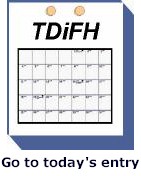 Introducing
This Day in Film History
July 7, 2003
To paraphrase Ted "Theodore" Logan, the world of cinema is full of history. In the winter and spring of 2003, we set out to prove it.
We wanted to compile a database of film-related historical events, recording at least one event for each calendar year of the day.
And thus we present This Day in Film History.
We believe that nowhere on the web will you find a collection like this.
We did not want to limit ourselves to dates of births and deaths in compiling the database....although we do have this information scattered throughout. We wanted to include other types of historical events. Among the information you'll find herein is:
Milestones in animation
Notable awards and nominations
Significant happenings in the history of film studios and film bodies (e.g. DGA, Screen Actors's Guild, etc.)
Development of film and sound technologies
History of film censorship and controversial releases
Notable film openings and box office records
...and other miscellany.
We have nearly 1,000 entries so far, and will be adding to the database as time goes on.
For the time being, we will displaying data for the current calendar date only, so be sure to check back on a daily basis. Over time, we may decide to open up the full calendar through which you can navigate.
Errors & omissions:
Spot a incorrect item? Email
tdifh@boxofficeprophets.com
. In most cases, we will insist on a source to back up your claim. Know of a *notable* omission? Send it to the above address. We can't make any promises about its inclusion, but we'll consider it.