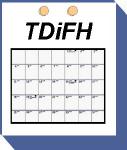 This Day in Film History:
March 20
---
1943:
MGM's cartoon Dumb Hounded, directed by Tex Avery, is released. First appearance of Droopy.
1952:
Humphrey Bogart wins the Academy Award for Best Actor for The African Queen. It is the only time he'll ever win the prestigious trophy.
1954:
Spoiler for the movie Hoosiers (swipe below to read):
Tiny Milan High School defeats Muncie Central for the Indiana State basketball championship. Milan was the model for Hickory High School in the movie Hoosiers.
Courtesy: Indiana High School Athetic Association
1957:
Spike Lee is born Shelton Lee in Atlanta, Georgia.
1958:
Oscar winner Holly Hunter is born in Conyers, Georgia.
1992:
The Paul Verhoeven/Joe Eszterhas festering cauldron of controversy Basic Instinct opens on 1,567 screens.
---
Previous Day
Next Day
Random Day
About This Day in Film History
~ ~ ~
Errors & Omissions
---
This Day in Film History had absolutely nothing to do with the production of the movie Holy Man.