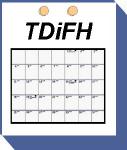 This Day in Film History:
June 30
---
1917:
Legendary actress and singer Lena Horne is born in Brooklyn.
1918:
Oscar winner Susan Hayward (I Want to Live) is born Edythe Marrener in Brooklyn.
1933:
Screen Writers Guild lawyer Laurence Beilsenson files papers for the creation of the Screen Actors Guild.
Source: The Politics of Glamour
---
Previous Day
Next Day
Random Day
About This Day in Film History
~ ~ ~
Errors & Omissions
---
The Teenage Mutant Ninja Turtles still support This Day in Film History.