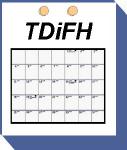 This Day in Film History:
August 28
---
1898:
Preston Sturges enters the world in Chicago, Illinois
1930:
"Hooray for Captain Spaulding, the African explorer!" Animal Crackers, considered by many to be the Marx Brothers' best film (they're wrong, by the way), opens.
1940:
Laurence Olivier and Vivian Leigh marry.
---
Previous Day
Next Day
Random Day
About This Day in Film History
~ ~ ~
Errors & Omissions
---
We've secretly replaced Mrs. Gumberson's regular coffee with This Day in Film History. Let's see if she can tell the difference.