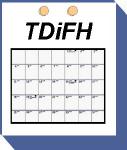 This Day in Film History:
March 26
---
1939:
Actor James Caan (The Godfather) is born in the Bronx.
1970:
The documentary Woodstock opens. The film later wins Best Documentary at the 1971 Oscars.
1975:
The film version of The Who's Tommy opens in England.
1995:
Bruce Willis' The Color of Night is named Worst Picture at the Razzie Awards.
---
Previous Day
Next Day
Random Day
About This Day in Film History
~ ~ ~
Errors & Omissions
---
We've secretly replaced Mrs. Gumberson's regular coffee with This Day in Film History. Let's see if she can tell the difference.