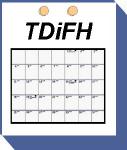 This Day in Film History:
July 30
---
1932:
Walt Disney's cartoon Flowers and Trees, the first cartoon produced with the three-strip Technicolor process, is released. Winner of the Academy Award for Best Animated Short Film.
1939:
Director Peter Bogdanovich (The Last Picture Show, Paper Moon) is born in Kingston, New York.
1945:
The World War II aircraft carrier USS Indianapolis sinks after being torpedoed. The sinking is the subject of dialogue in the movie Jaws, though the character Quint is a month off in his recount of the event, stating the ship sank on June 29th.
1947:
Future bodybuilder, action hero and California governor Arnold Schwarzenegger is born in Austria.
1955:
Mister Roberts opens, starring Henry Fonda, James Cagney, William Powell and Jack Lemmon.
1999:
The Blair Witch Project debuts.
---
Previous Day
Next Day
Random Day
About This Day in Film History
~ ~ ~
Errors & Omissions
---
This Day in Film History: You're soaking in it.