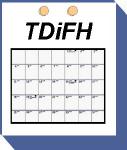 This Day in Film History:
June 28
---
1916:
Adolph Zukor's Famous Players Film Company merged with the Jesse L. Lasky Company to form what would become Paramount Pictures.
Source: www.paramount.com
1926:
Melvin Kaminsky, later known to comedy film lovers as Mel Brooks, enters the world stage in Brooklyn, New York.
1948:
Oscar winner Kathy Bates is born in Memphis, Tennessee.
1956:
Deborah Kerr and Yul Brynner star in 20th Century Fox's The King and I, premiering in New York.
---
Previous Day
Next Day
Random Day
About This Day in Film History
~ ~ ~
Errors & Omissions
---
This page is suitable for bookmarking.