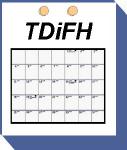 This Day in Film History:
January 18
---
1892:
Oliver Hardy, one-half of the comedy team Laurel and Hardy, is born in Harlem, Georgia.
1904:
Archibald Leach, better known as Cary Grant, is born in Bristol, England.
1923:
Reluctant actor James Hallek Reed dies of pneumonia, possibly stemming from a rushed treatment of his addiction to morphine. Reed's widow, Dorothy Davenport, later produces early Hollywood morality tale Human Wreckage, a bleak depiction of drug addition.
Source: Censored Hollywood
---
Previous Day
Next Day
Random Day
About This Day in Film History
~ ~ ~
Errors & Omissions
---
This Day in Film History had absolutely nothing to do with the production of the movie Holy Man.