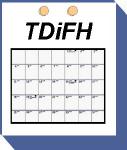 This Day in Film History:
April 16
---
1889:
The Little Tramp, Charlie Chaplin, is born in Walworth, London.
1921:
Sir Peter Ustinov, winner of two Academy Awards for his supporting roles in Spartacus and Topkapi, is born in London.
1979:
Notorious flop Heaven's Gate begins production in Montana.
1991:
Legendary director David Lean dies of cancer in London. Lean was preparing a film version of Joseph Conrad's novel Nostromo. Production shuts down with Lean's death.
---
Previous Day
Next Day
Random Day
About This Day in Film History
~ ~ ~
Errors & Omissions
---
This Day in Film History: You're soaking in it.