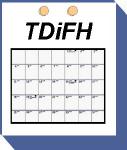 This Day in Film History:
April 17
---
1918:
Oscar-winner William Holden (Stalag 17) is born William Franklin Beedle, Jr. in O'Fallon, Illinois.
1924:
The Louis B. Mayer Company merges with Metro Pictures and Goldwyn Pictures to form Metro-Goldwyn-Mayer, the famed MGM studio.
Source: The Lion's Share
1961:
Billy Wilder's The Apartment wins five Academy Awards, including Best Picture, Director and writing.
1977:
Woody Allen's Annie Hall debuts in Sweden. Winner of four major oscars, Annie Hall is released in the US three days later.
---
Previous Day
Next Day
Random Day
About This Day in Film History
~ ~ ~
Errors & Omissions
---
TDiFH: So much love....and yet....so much information