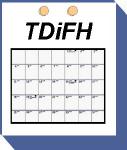 This Day in Film History:
April 14
---
1894:
Thomas Edison's first films premiere at the Kinetoscopic parlor in New York City.
Source: The American Film Institute Desk Reference
1904:
Sir John Gielgud is born in South Kensington, London. Though he is considered one of the greatest Shakespearean actors of the 20th century, he ironically won an Academy Award for his supporting turn in the comedy Arthur.
1925:
Rod Steiger, Academy Award winner for In the Heat of the Night, is born in Westhampton, New York.
1940:
Oscar-winner Julie Christie (Darling) is born in Chabua, Assam, India.
---
Previous Day
Next Day
Random Day
About This Day in Film History
~ ~ ~
Errors & Omissions
---
This Day in Film History had absolutely nothing to do with the production of the movie Holy Man.