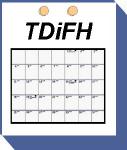 This Day in Film History:
February 23
---
1935:
Walt Disney's cartoon The Band Concert is released. This is the first Mickey Mouse cartoon produced in color.
1939:
Spencer Tracy wins Best Actor for Captains Courageous at the Academy Awards, the first time an actor has won the Oscar in consecutive years.
1940:
Walt Disney's animated feature Pinocchio is released.
1951:
Starring Robert Taylor, Deborah Kerr and Peter Ustinov, MGM's Quo Vadis opens. The film sets the record for the greatest number of costumes used, with 32,000.
Source: The AFI Desk Reference
1965:
A heart attack takes Stan Laurel in Santa Monica.
---
Previous Day
Next Day
Random Day
About This Day in Film History
~ ~ ~
Errors & Omissions
---
This Day in Film History: All the rage in Amsterdam.