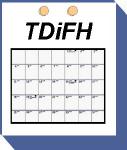 This Day in Film History:
February 10
---
1906:
Creighton Chaney, later known to the world as Lon Chaney Jr and The Wolfman, is born in Oklahoma City, Oklahoma.
1940:
MGM's cartoon Puss Gets the Boot, directed by William Hanna and Joseph Barbera (but credited to Rudolf Ising), is released. First Tom & Jerry cartoon.
2001:
Released a day before, Hannibal sets a February single-day record of $23.49 million. The film also sets the mark for February openers, taking in $58 million in its opening weekend.
---
Previous Day
Next Day
Random Day
About This Day in Film History
~ ~ ~
Errors & Omissions
---
We've secretly replaced Mrs. Gumberson's regular coffee with This Day in Film History. Let's see if she can tell the difference.