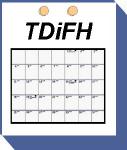 This Day in Film History:
October 3
---
1941:
Warner Bros' The Maltese Falcon, directed by John Huston and starring Humphrey Bogart, Mary Astor and Peter Lorre, debuts in New York.
1953:
Warner's cartoon Duck, Rabbit, Duck, starring Bugs Bunny and Daffy Duck, and directed by Chuck Jones, is released. It is the last in a trilogy of 'verbal warfare' cartoons featuring Bugs and Daffy.
---
Previous Day
Next Day
Random Day
About This Day in Film History
~ ~ ~
Errors & Omissions
---
We've secretly replaced Mrs. Gumberson's regular coffee with This Day in Film History. Let's see if she can tell the difference.