The Amazing Race Season 28 Recap - Episode 5
We're Only Doing Freaky Stuff Today
By Kim Hollis and David Mumpower
March 14, 2016
Fortunately, she suddenly finds inspiration and makes her way back. When she returns, she has a surge of adrenaline and wants to do the dynamite challenge. Cole is scared to death, particularly of heights, and does everything he can to manipulate his mother into doing the camping challenge instead. He promises to cry through the entire thing, which is really no different than every episode so far. Eventually, as they notice all the other teams (except for Burnie & Ashley) are doing dynamite because it seems shorter, he agrees to give it a shot.

As they choose their Detour task, Scott makes the stupid mistake of wondering where the "lunches" are that they are supposed to deliver along with the dynamite. To her credit, Blair immediately realizes that people in Switzerland just eat baguettes for lunch, so they've already got what they need. We think the crisis is averted and common sense has ruled the day. Then, the Clevver girls just walk into someone's office and start going through a guy's bags. You can see from the photo below the expression of horror on his face when these beautiful women start raiding his food containers. There's a question we have to ask the Amazing Race producers at this point: Are these really women we should be trusting with live dynamite?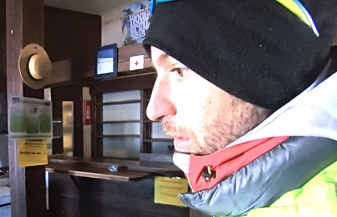 Let's head back over to Brodie & Curt, who are picking up their next clue, which directs them to the Roadblock. Brodie is thrilled to discover that he'll be paragliding over the mountains, and we have to admit it looks amazing. Part of the challenge is to look for a Yeti as they're soaring (and they'll then answer a question when they return). In fact, Brodie even reminds Korey before they get started not to forget the Yeti.
There is a catch to the Roadblock, though. In order to take off, you actually have to get some momentum and get yourself in the air. Rather than go airborne, Brodie faceplants, and gets a facefull of snow for his reward. This leaves an opening for Korey to get ahead, and having watched Brodie's failure, he makes sure to lift his legs high as they go for takeoff, ensuring that they take to the sky. He notes that the Yeti is waving an American flag as he passes.
This entire sequence of events leads to an outstanding moment where Curt thinks he's cheering for Brodie, but soon realizes that Korey has somehow jumped ahead. Needless to say, Tyler is thrilled and the two of them are off to the Pitstop at the Dr. Paccard Statue.
At this point, Burnie realizes that he and Ashley have made a huge error in judgment by choosing the campsite Detour. On their first pass, they are told that their snow isn't piled high enough around the tent, so they have to give it another shot.
Up on the mountain with the dynamite challenge and the Clevver girls, Joslyn throws herself at one of the mountain guides. Nothing says "bad boy" more than handling dynamite all day. He quickly swipes left, telling her that he's married. Meanwhile, Sheri & Cole are crying all over their baguettes. Some guy is going to think his bread is too salty, not realizing that it's actually just covered in tears.