Survivor Cambodia: Second Chance - Season Preview
Ta Keo Tribe
By Jim Van Nest
September 22, 2015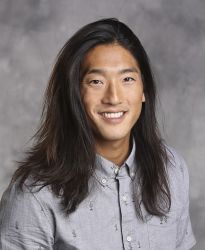 Yung "Woo" Hwang - Season 28: Cagayan - Rounding out the Ta Keo tribe is Cagayan runner up, Woo Hwang. Woo was Tony's #2 pretty much from the start of the game all the way to the final tribal. The sad part is that Woo won the final immunity and decided to go with integrity over a desire to win. He took Tony to the finals and lost handily, instead of taking the ultimate goat, Chaos Kass, where he would have been guaranteed a win. Personally, I applaud Woo for his choice. He felt that Kass didn't deserve to plead her case for a million dollars, so he saw to it that she sat on the jury instead. It's been labeled as one of the stupidest moves in Survivor history and I disagree. I mean, sure, he gave away $900,000. We all know that. But he did it for a noble reason. And for me, that's never stupid. Flash forward to now, and Woo has a huge chip on his shoulder. I worry that he's let that chip fester and he'll overplay in an effort to make up for his "stupid" decision. Woo is one of the very few people on this cast that I think should play the exact same game he played the first time. If he does that, he'll make it to the end again. I just don't think he will. I think he'll try to be a Tony and it will mean an early demise for Ninja Stealth Mode. I hope I'm wrong, but I fear for Woo that I'm not.

And that'll do it for the preview of the Ta Keo tribe. As I did with Bayon, I'll give you my quick review of who I think will not be datable (out before the merge). In this tribe, I think Spencer and Woo from Cagayan will have a hard time making the merge as well as Peih-Gee and Abi-Maria. I hope I'm wrong on some of these. The three people on this tribe that I could see making a deep run in the game would be Varner, Kelley Wentworth and Vytas.




With that in mind, here are my picks for the Survivor Cambodia: Second Chance Final 4: Jeff Varner, Kelley Wentworth, Jeremy Collins and Tasha Fox. I see Tasha winning a Final 4 immunity, which will sadly end the dream of Jeff Varner. Which leaves Jeremy, Kelley and Tasha to duke it out in the Final Tribal, and I just have a feeling that Jeremy will have the best resume of the three and that will get him the win in a narrow vote that sees all three finalists getting votes. Now, I have to remind everyone that I did, in fact, pick Mike Holloway as the winner in my pre-season picks for Worlds Apart - so Jeremy, it's as good as locked up. Congratulations, my man...surround and drown those dummies!!!
Thanks so much for hanging out with me while I break these tribes down...and be sure to keep an eye out for my recaps all season long, starting with the Premiere of Survivor Cambodia: Second Chance this Wednesday, September 22, 2015 on CBS starting at 8pm, 7pm Central! 'Til next time, kids, take care!!
I wanna know what you think Survivor fans. How do my predictions look? Hit me up on the Tweet box: @vannestjc