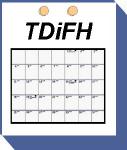 This Day in Film History:
September 7
---
1909:
Controversial director Elia Kazan is born in Constantinople. As a director, he makes such screen classics as On the Waterfront and A Streetcar Named Desire. However, he testifies before the House Un-American Activities Committee, naming names and damaging his reputation, as well as the reputations of many others, in Hollywood.
1923:
Actor/Rat Packer/Kennedy in-law Peter Lawford is born in London, England.
1943:
Orson Welles marries Rita Hayworth. They divorce in December 1948.
1961:
MGM's cartoon Switchin' Kitten, starring Tom & Jerry, is released. After shutting down its in-house studio in 1958, MGM contracted work out to director Gene Deitch and a Czechoslovakian cartoon studio, who produced 13 Tom & Jerry cartoons during 1961 and 1962.
1996:
Larry and Andy Wachowski's film Bound premieres at the Toronto Film Festival. The Gina Gershon/Jennifer Tilly pic is considered by many of the Box Office Prophets to be the finest movie ever released.
---
Previous Day
Next Day
Random Day
About This Day in Film History
~ ~ ~
Errors & Omissions
---
This Day in Film History: As seen on Blind Date.