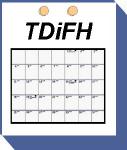 This Day in Film History:
July 12
---
1912:
Sarah Bernhardt's four-reel film Queen Elizabeth opens. Adolph Zukor, who secured the distribution rights, soon after founded the Famous Players Film Company, a precursor of Paramount Pictures.
Source: www.paramount.com
1933:
Ralph Morgan becomes first SAG president. This was done at the Guild's official organizational meeting at the Giannini Bldg. in downtown Los Angeles, when the Guild had less than 20 members, so it was not an election in the same sense that a Guild president is elected today.
Source: Screen Actors Guild.
1937:
Bill Cosby starts out as a child in Philadelphia, Pennsylvania.
1973:
The Wolfman bays no more, as Lon Chaney, Jr dies of beriberi and liver failure in San Clemente, California.
---
Previous Day
Next Day
Random Day
About This Day in Film History
~ ~ ~
Errors & Omissions
---
This Day in Film History had absolutely nothing to do with the production of the movie Holy Man.