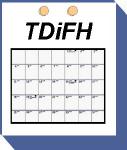 This Day in Film History:
July 1
---
1902:
Director William Wyler is born in Mulhouse, Haut-Rhin, Alsace, France. His films including the Oscar-winner The Best Years of Our Lives.
1916:
Two-time Oscar winner (To Each His Own and The Heiress) Olivia de Havilland is born in Tokyo. She is perhaps best known for her turn as Melanie Wilkes in Gone with the Wind.
1966:
Jack "Boom-Boom" Valenti becomes president of the Motion Picture Association of America. Valenti was previously a member of the Johnson White House.
1975:
Robert Zemeckis wins a Special Jury Award at the Student Academy Awards.
1984:
The movie rating system is amended to include a new PG-13 rating.
1991:
Terminator 2: Judgment Day debuts in Century City, California. Its opening weekend take of $31.77 million on 2,274 screens is a record for the month of July, lasting until Independence Day debuts in 1996.
---
Previous Day
Next Day
Random Day
About This Day in Film History
~ ~ ~
Errors & Omissions
---
TDiFH cured my canker sore!