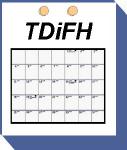 This Day in Film History:
June 26
---
1943:
MGM's cartoon Yankee Doodle Mouse, starring Tom & Jerry and directed by Hanna & Barbera, is released. Winner of the Academy Award for Best Animated Short Film, the first of six Oscars for Tom & Jerry cartoons.
1959:
Darby O'Gill and the Little People opens. Sean Connery's appearance in the film leads to him landing the role of James Bond in Dr. No.
1974:
Elizabeth Taylor and Richard Burton divorce for the first time.
---
Previous Day
Next Day
Random Day
About This Day in Film History
~ ~ ~
Errors & Omissions
---
The Teenage Mutant Ninja Turtles still support This Day in Film History.