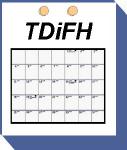 This Day in Film History:
June 13
---
1892:
The silver screen's greatest Sherlock Holmes is born Philip St John Basil Rathbone in Johannesburg, South Africa.
1931:
The first screen rendition of Dashelle Hammett's The Maltese Falcon is released by Warner Bros. The studio releases a much more famous version, directed by John Huston and starring Humphrey Bogart, ten years later.
1934:
The Motion Picture Producers and Distributors Association unveils its new Production Code, aimed at enforcing decency standards in films. The code forbade depictions of the techniques of crime, illegal drug traffic, justifications of adultery, suggestive dances and profanity, among other sensibilities.
Source: Forbidden Films, Censored Hollywood
1962:
Stanley Kubrick's Lolita debuts. Changes were reportedly made to the film to avoid receiving a Condemned rating from the Catholic Legion of Decency. Kubrick revised scenes involving "...the seduction at the motel, and Lolita's age." The majority of the LoD still wanted to condemn the film, but instead awarded it with a "Special Classification", along with a demand that the body would have the right to approve all advertising for the film.
Source: Forbidden Films
---
Previous Day
Next Day
Random Day
About This Day in Film History
~ ~ ~
Errors & Omissions
---
TDiFH: Only 3 calories per mint.