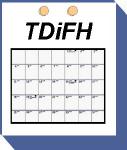 This Day in Film History:
May 30
---
1896:
Director Howard Hawks is born in Goshen, Indiana. His films include To Have and Have Not, Bringing Up Baby, His Girl Friday and Rio Bravo, among others.
1899:
Hollywood executive/pioneer Irving Thalberg is born in Brooklyn.
1908:
Warner Bros cartoon voice artist Mel Blanc is born in San Francisco, California.
1969:
Death of a Gunfighter opens in Finland. Real-life director Alan Smithee replaces original directors Don Siegel and Robert Totten. "Alan Smithee" later becomes a pseudonym for a director who wishes to have his name removed from a film.
---
Previous Day
Next Day
Random Day
About This Day in Film History
~ ~ ~
Errors & Omissions
---
This Day in Film History: As seen on Blind Date.