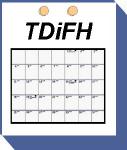 This Day in Film History:
April 9
---
1898:
Actor-singer Paul Robeson, star of such films as Show Boat and The Emperor Jones, is born in Princeton, New Jersey.
1962:
Robert Wise and Jerome Robbins each win the Academy Award for Best Director, the first time the directing Oscar is shared.
1979:
The Deer Hunter wins the Best Picture Oscar.
1984:
Carl Foreman and Michael Wilson are posthumously awarded the Oscar for Adapted Screenplay for 1957's The Bridge on the River Kwai. Foreman and Wilson were blacklisted in the '50s, so the original screenplay award for the film went to the author of the original story, Pierre Boulle.
---
Previous Day
Next Day
Random Day
About This Day in Film History
~ ~ ~
Errors & Omissions
---
This Day in Film History: As seen on Blind Date.