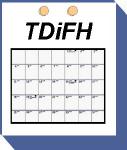 This Day in Film History:
March 31
---
1934:
1960 Oscar Winner (Best Supporting Actress for Elmer Gantry) Shirley Jones, better known as Mrs. Patridge, is born in Pennsylvania.
1939:
Basil Rathbone portrays Sherlock Holmes for the first time as The Hound of the Baskervilles opens.
1981:
Ordinary People wins the Academy Award for Best Picture. The same day, Can't Stop the Music is named Worst Picture at the first Razzie Awards.
1993:
A prop gun misfires and kills actor Brandon Lee, son of martial arts expert Bruce Lee, during shooting on the film The Crow. Mostly finished at the time of the accident, production is completed and the film is released.
1999:
Warner Bros. asks, "What is the Matrix?", and America finds out, to the tune of $27.78 million during its opening weekend.
---
Previous Day
Next Day
Random Day
About This Day in Film History
~ ~ ~
Errors & Omissions
---
TDiFH cured my canker sore!