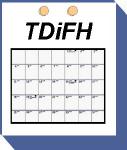 This Day in Film History:
March 16
---
1926:
Hey laaaady...Jerry Lewis is born Joseph Levitch today in Newark, New Jersey.
1934:
Charles Laughton wins Best Actor for The Private Life of Henry VIII, marking the first time a British actor has won the award in a British-made film.
1941:
Italian director Bernardo Bertolucci (Last Tango in Paris) is born in Parma, Emilia-Romagna, Italy. He won the Oscar for directing The Last Emperor.
1964:
Elizabeth Taylor and Richard Burton marry for the first time.
1964:
Vilgot Sjöman's film 491 premieres in Sweden. The film was originally banned from import into the US over its depiction of sexuality among its young stars. 491 was finally allowed into the country following a ruling by the US Court of Appeals.
Source: Forbidden Films
---
Previous Day
Next Day
Random Day
About This Day in Film History
~ ~ ~
Errors & Omissions
---
This Day in Film History: As seen on Blind Date.