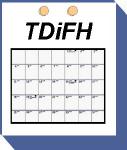 This Day in Film History:
February 8
---
1925:
Jack Lemmon is born in Boston, Massachusetts.
1931:
James Dean (Rebel Without a Cause, Giant) is born in Marion, Indiana.
1941:
Nick Nolte is born in Omaha, Nebraska.
1976:
Taxi Driver premieres in New York City.
---
Previous Day
Next Day
Random Day
About This Day in Film History
~ ~ ~
Errors & Omissions
---
We've secretly replaced Mrs. Gumberson's regular coffee with This Day in Film History. Let's see if she can tell the difference.