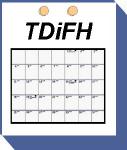 This Day in Film History:
December 5
---
1890:
Friederich Christian Anton "Fritz" Lang is born in Vienna, Austria.
1901:
Walter Elias, AKA Walt, Disney is born in Chicago.
1905:
Director Otto Preminger (The Man with the Golden Arm, Anatomy of a Murder) is born in Vienna.
1911:
The subject of Roman Polanski's The Pianist, Wladyslaw Szpilman, is born in Poland. Adrien Brody wins the 2003 Best Actor for his portrayal of Szpilman.
---
Previous Day
Next Day
Random Day
About This Day in Film History
~ ~ ~
Errors & Omissions
---
TDiFH: Only 3 calories per mint.