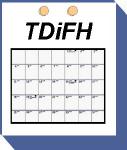 This Day in Film History:
November 24
---
1947:
Fifty industry leaders meet at the Waldorf-Astoria in New York in response to the House Un-American Activities Committee. After the meeting, they issue a statement, effectively blacklisting the "Hollywood Ten", actors and directors called before the committe who refused to testify.
1948:
The landmark film The Bicycle Thief opens in Italy.
1959:
Having premiered in New York six days earlier, the William Wyler/Charelton Heston epic Ben Hur opens in Los Angeles. The film goes on to win a record 11 Academy Awards, a distinction it shares with Titanic.
---
Previous Day
Next Day
Random Day
About This Day in Film History
~ ~ ~
Errors & Omissions
---
The Teenage Mutant Ninja Turtles still support This Day in Film History.