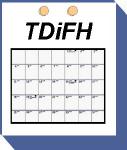 This Day in Film History:
January 4
---
1914:
Oscar-winning actress Jane Wyman (Johnny Belinda), Ronald Reagan's first wife, is born in St Joseph, Missouri.
1958:
Matt "Max Headroom" Frewer is born in Washington, DC.
2003:
Cinematographer Conrad L. Hall dies from cancer in Santa Monica, California. Having won the Oscar for cinematography twice (American Beauty, Butch Cassidy and the Sundance Kid), Hall is awarded his third statue posthumously for Road to Perdition.
---
Previous Day
Next Day
Random Day
About This Day in Film History
~ ~ ~
Errors & Omissions
---
The Teenage Mutant Ninja Turtles still support This Day in Film History.