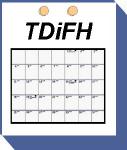 This Day in Film History:
January 23
---
1943:
Warner's cartoon Tortoise Wins By a Hare, starring Bugs Bunny and directed by Bob Clampett, is released. Sequel to Tex Avery's Tortoise Beats Hare (1941).
2004:
Bob Keeshan, better known to children televsion viewers as Captain Kangaroo, dies at the age of 76.
---
Previous Day
Next Day
Random Day
About This Day in Film History
~ ~ ~
Errors & Omissions
---
This Day in Film History had absolutely nothing to do with the production of the movie Holy Man.