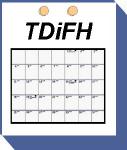 This Day in Film History:
January 10
---
1899:
Fredrick Auslerlitz, later known as Fred Astaire, is born in Omaha, Nebraska.
1910:
Luise Rainer, Academy Award-winning actress for The Great Zigfield and The Good Earth, is born in Dusseldorf, Germany. She won her Oscars in successive years.
1924:
Rising from the reformed CBC Film Sales Company, Columbia Pictures is officially born.
Source: Columbia Pictures
1927:
Fritz Lang's signature work Metropolis premieres in Germany.
---
Previous Day
Next Day
Random Day
About This Day in Film History
~ ~ ~
Errors & Omissions
---
We've secretly replaced Mrs. Gumberson's regular coffee with This Day in Film History. Let's see if she can tell the difference.