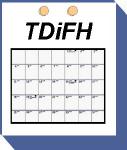 This Day in Film History:
November 26
---
1922:
Toll of the Sea premieres. This is the first film made using the Technicolor company's two-color system, in which the print is produced using shades of green and red.
---
Previous Day
Next Day
Random Day
About This Day in Film History
~ ~ ~
Errors & Omissions
---
We've secretly replaced Mrs. Gumberson's regular coffee with This Day in Film History. Let's see if she can tell the difference.