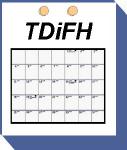 This Day in Film History:
April 25
---
1940:
Al Pacino, star of such quality films as The Godfather, The Godfather II, and The Insider, although he unfortunately won his only Oscar for Scent of a Woman, is born in New York City.
1969:
Renee Zellweger is born in Houston, Texas.
1972:
Legendary cad George Sanders commits suicide in Barcelona. Note reads: "I am leaving you with your worries in this sweet cesspool."
---
Previous Day
Next Day
Random Day
About This Day in Film History
~ ~ ~
Errors & Omissions
---
TDiFH cured my canker sore!