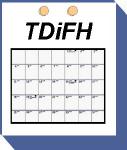 This Day in Film History:
October 30
---
1932:
Louis Malle, the director of such films as Pretty Baby and Atlantic City, is born Thurneries, France. Malle married Candice Bergen in 1980.
1952:
Universal debuts its Cinerama film technique with This is Cinerama. Cinerama is the three-camera system which projects film onto screens curving a third of the way around the audience. Unfortunately, only two theatres in America at the time had the capacity to show Cinerama.
Source: Hollywood Be Thy Name
---
Previous Day
Next Day
Random Day
About This Day in Film History
~ ~ ~
Errors & Omissions
---
This Day in Film History: All the rage in Amsterdam.