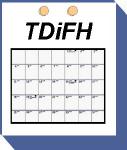 This Day in Film History:
March 29
---
1959:
Some Like It Hot, with Jack Lemmon and Marilyn Monroe, premieres.
1971:
The Godfather begins production.
1976:
One Flew Over the Cuckoo's Nest wins Best Picture.
1982:
Henry Fonda finally wins the Academy Award for Best Actor for his performance in On Golden Pond.
1993:
An Oscar myth that will not die is born. Marisa Tomei wins Best Supporting Actor for My Cousin Vinny. According to rumor, presenter Jack Palance read the wrong name, as the award was supposed to go to Judy Davis for Husbands and Wives. This myth, while being repeatedly officially denied, still lingers.
---
Previous Day
Next Day
Random Day
About This Day in Film History
~ ~ ~
Errors & Omissions
---
This Day in Film History had absolutely nothing to do with the production of the movie Holy Man.