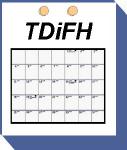 This Day in Film History:
October 17
---
1918:
The glamorous actress Rita Hayworth (Gilda) is born Margarita Carmen Cansino in Brooklyn.
1990:
Col Needham posts a set of Unix script shells to add searchability to the Usenet bulletin rec.arts.movies, creating the first incarnation of the Internet Movie Database.
Source: IMDb.com
---
Previous Day
Next Day
Random Day
About This Day in Film History
~ ~ ~
Errors & Omissions
---
This page is suitable for bookmarking.