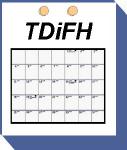 This Day in Film History:
July 5
---
1889:
Jean Cocteau, seminal French avant-garde director, is born in Maisons-Lafitte, Yvelines, Île-de-France, France.
1941:
Warner's cartoon The Heckling Hare, starring Bugs Bunny, is released. The last cartoon completed by Tex Avery at Warner Bros, it had the infamous "Here we go again!" unresolved ending that got Avery fired by the series producer, Leon Schlesinger (and the end of the cartoon cut).
2003:
N!xau, the bushman star of 1980's "The Gods Must Be Crazy", dies. His estimated age was 59, though he himself did not know his exact age.
---
Previous Day
Next Day
Random Day
About This Day in Film History
~ ~ ~
Errors & Omissions
---
This Day in Film History had absolutely nothing to do with the production of the movie Holy Man.