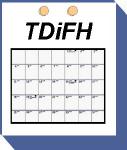 This Day in Film History:
July 23
---
1891:
Longtime president of Columbia Pictures Harry Cohn born in New York.
1982:
Actor Vic Morrow is killed in a helicopter crash on the set of Twilight Zone: The Movie.
---
Previous Day
Next Day
Random Day
About This Day in Film History
~ ~ ~
Errors & Omissions
---
We've secretly replaced Mrs. Gumberson's regular coffee with This Day in Film History. Let's see if she can tell the difference.