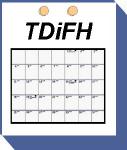 This Day in Film History:
November 27
---
1929:
The Justice Department institutes joint antitrust suits against Fox and Warner Bros. studios.
1936:
Max Fleischer releases Popeye the Sailor Meets Sinbad the Sailor. This cartoon is notable for several firsts: First Popeye cartoon in color, first cartoon to run an extended length (two reels), and first use of the Fleischer 3D system (animation cels are photographed in front of tiny, elaborately-built sets on a rotating platform).
1940:
Bruce Lee is born in San Franscico.
1952:
Universal premieres Bwana Devil, the first full-length feature filmed in 3D.
Source: Hollywood Be Thy Name
1985:
Steven Spielberg and actress Amy Irving marry.
---
Previous Day
Next Day
Random Day
About This Day in Film History
~ ~ ~
Errors & Omissions
---
This Day in Film History: You're soaking in it.