The BOP 25 of Summer 2004
Welcome to the second annual BOP 25 of Summer. Just as we did last year, we locked the staff into a stale closet and refused to let them our until they voted for their ten most anticipated titles of the period from the first weekend of May through Labor Day. Since the group of writers we have assembled are stubbornly unconventional, the list includes a fascinating combination of mainstream tentpole releases alongside indie and foreign productions that are unlikely to earn $10 million domestic. We hope that you enjoy our eclectic take on what has us hyped up and glad to be movie lovers.

So, what does the season have in store for us? There are movies starring Tobey Maguire as Spider-Man and Matt Damon as Jason Bourne. Are we sure this is summer 2004 instead of summer 2002? Well, the computer calendar seems to think so, but maybe that sidewinder Bill Gates is up to something. He's somehow involved with I, Robot, right? Even if he hasn't admitted it, we're pretty sure that's the case.

Under any circumstance, the top few selections are probably not that surprising as our group has the same love for comic book heroes and literary wizards that the rest of the free world does. Where we might surprise you are on some of the selections we have picked over much more expensive mainstream productions such as Stepford Wives and Thunderbirds. We are too confused by the genre mixing of the Nicole Kidman trailer, while we simply smell a wet dog on the live action adaptation of the claymation classic. If you disagree with our selections, head back to the front page and vote in our Notable Omissions poll.

Note that we will follow the same basic formula as last year, so you can look forward to our September review of the selections. That's where we will discuss how right we were about some anticipated hits and make fun of the Legally Blonde 2 type selections where we wonder just what the hell we were thinking when we voted for them in the first place.
25) Harold and Kumar Go to White Castle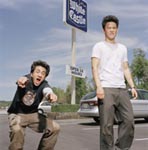 Ah yes, the late night, drunken White Castle cravings. Many of us remember those days well; however, most of us probably didn't experience any sort of mind-blowing, life-altering experiences as we searched for that exquisite combination of grease and…well, more grease. Harold and Kumar, on the other hand, look to be having an adventure of Bill and Ted-esque proportions, though perhaps without the presence of such luminaries as Billy the Kid, So-crates, Freud and Napoleon Bonaparte. Since director Danny Leiner has been behind the camera of so many of our television favorites (Sports Night, Freaks and Geeks, Action, Gilmore Girls, The Tick, Everwood…), we have high hopes that this silly story will be handled with aplomb, though we also are aware that we could get another Dude, Where's My Car? Leiner was responsible for that, too.
24) The Terminal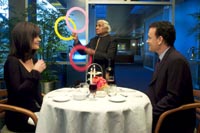 If you have never heard about the plight of Merhan Karimi Nasseri, the story of The Terminal probably sounds too absurd to be believable. The Iranian born passenger found himself in the unlikely position of being unable to present the papers that would have allowed him to reside in his mother's homeland, England. As a result, he wound up permanently stranded at Charles de Gaulle airport in Paris, France.
The man without a country has been reduced to this odd half-life of airport residence for over a decade now, and his unusual predicament has already been the subject of a 1993 French film, Tombes du Ciel. Of course, there is a difference between Joan Rochefort making a movie about someone vs. Tom Hanks and Steven Spielberg making one. Such unusual subject matter would be the solid foundation for a movie anyway, but with such heavyweights on board, we're primed and ready for something special. The duo previously excelled with Catch Me If You Can and Saving Private Ryan, so there is no reason to believe The Terminal will be anything less than wonderful.
23) Alien vs. Predator (tie)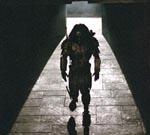 Some of our voting selections are rather self-explanatory. Just as Freddy vs. Jason had us buzzed last fall, the idea of two intergalactic powerhouses facing off has us giddy with anticipation. The concept of pitting two franchise commodities off against one another is quite simply the finest in recent cinema. As long as the various studios keep proving themselves willing to whore out their libraries in order to provide these sorts of face-offs, BOP will keep putting them on the list. We can't wait for the first time an Alien pops out of the chest of a Predator. THAT will be popcorn cinema at its finest.
23) Collateral (tie)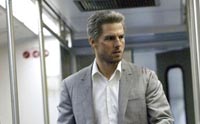 The latest from stylish director Michael Mann is this action/thriller about a taxi driver (Jamie Foxx) who is taken hostage by a charismatic contract killer (Tom Cruise) as the assassin goes from assignment to assignment during the course of one L.A. evening. The driver must try to not only keep himself alive, but also find a way to possibly save one last victim before the night's carnage is complete. With the marvelous Frank Darabont (The Shawshank Redemption, The Green Mile) behind the screenplay, we have high hopes based just on the film's pedigree alone. As he showed in Interview With the Vampire, Cruise's ability to play an engaging villain is reason enough to get us to the theater.
22) Super Size Me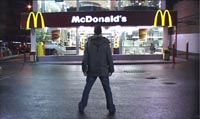 For anyone who ever thought that the McDonaldization of America is a bad thing, have we ever got the film for you. And if Eric Schlosser's book Fast Food Nation wasn't enough to get you off of french fries and Quarter Pounders with Cheese forever, this documentary should do the trick. The film's director/subject, Morgan Spurlock, restricted his dietary regime to McDonald's only for a period of 30 days. During that time, he was only allowed to eat what was available over the counter, he could only supersize if it was offered, and he had to eat every item on the menu at least once. With obesity in America constantly capturing headlines, this documentary is a topical examination of one of the primary culprits.
21) Code 46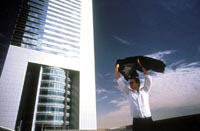 If The Chronicles of Riddick doesn't quite measure up to be the mind warp that the first film in the series was, at least we'll have Code 46, a low-budget project just chock full of talent. Starring recent Academy Award winner Tim Robbins and recent Academy Award nominee Samantha Morton, this "sci-fi love story" is set in a not-so distant future where cities are heavily controlled through the use of checkpoints. Citizens are unable to travel unless they are in possession of a "papelle," a special sort of travel insurance/permit. Outside of the cities, the desert is full of shanty towns of people without papelles, and their lives are seriously restricted, complicated and unpleasant. As a result, our hero, who starts out as an investigator of "papelle violations," finds himself falling in love with a woman who has been creating forgeries. Thus begins a whirlwind romance whose intricacies cause an ever-increasing level of difficulty. Director Michael Winterbottom and screenwriter Frank Cottrell Boyce previously found critical success with the rock 'n' roll dramedy 24 Hour Party People, and Code 46 is a striking genre departure for them. Code 46 is one of the most currently under-the-radar projects on our list, and we can't wait to see how it all plays out.
Click here to read selections 20-16.
Click here to read selections 15-11.
Click here to read selections 10-6.
Click here to read selections 5-1.

Click here for an alphabetical list of all selections.