The Bop 25 of Summer: 10-6
10) Open Water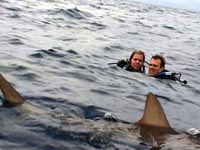 Frequently described as "The Blair Witch Project meets Jaws," Open Water was a crowd favorite at the 2004 Sundance Film Festival and looks to build buzz in a grass-roots sort of campaign. The film elaborates on the depth and intensity of human fears and our driving survival instinct. Based on a true story about two married scuba divers left behind by a slipshod boating crew, the film then goes on to imagine what might have happened to the couple in the time that followed. Open Water's realism is enhanced by the decision to use no digital effects, but instead real sharks, enhancing the very real terror that the movie's protagonists experience. Is it wrong for us to root for the sharks instead?
9) Anchorman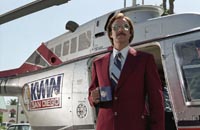 Saturday Night Live has often been described as the last remaining boys club of the modern era. While I suspect professional Augusta picketer Martha Burk might disagree with this comment, the fact remains that SNL has been a launching pad for any number of A-List superstar actors. Meanwhile, none of the women from the cast ever seems to get a better gig than It's Pat: the Movie or, even worse, Designing Women. It's therefore quite fitting to see the most recent rising star from SNL, Will Ferrell, select a project which hearkens back to the days when men were men and women were merely sexually discriminated eye candy. We called this era the 1970s.
Anchorman will tell the story of a titular character who spends most of his time boozing and carousing. Thanks to his presence on television, his lecherous behavior is readily accepted and in many cases cheerily endorsed. The setting uses the concept recently mined for huge laughs by Starsky and Hutch as North America's '70s nostalgia phase continues in full force. Really, though, the appeal here is the hard-working Ferrell. After years being stuck in excruciatingly unfunny cheerleader sketches, he has recently experienced a career zenith with Old School and Elf. A magnificent character comedian, Ferrell now has the opportunity to headline a superlative cast (Christina Applegate? Rowr!) in a hilarious period piece fertile with humorous potential. The only downside is that if Anchorman is also a hit, a cheerleaders movie becomes a distinct possibility. *shudder*
8) King Arthur
What's better than big budget historical fiction? Big budget historical fiction that stars Keira Knightley and Clive Owen.
The idea here is to harken back to a time before the term Anglo-Saxon was coined. Instead, the latest spin on the King Arthur legend involves an attempt to fictionally recreate history using evolved theories about how the Knights of the Round Table came to be. In order to better accomplish such high art, British thespians were selected for most of the key parts instead of simply re-hiring the Lord of the Ring cast to take on taller roles. Before you cry foul over the alarmist realization that this sounds like a BBC production recently aired on PBS, consider this. King Arthur is a Jerry Bruckheimer production. It sounds less like a European History class and more like a worthy Pirates of the Caribbean follow-up project now, doesn't it?
7) Garden State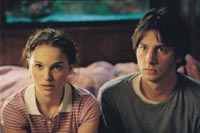 According to the song lyrics, Zach Braff can't do this all on his own. Oh no, he's no Superman. You could have fooled us, though. In addition to being the star of one of the BOP staff's favorite television shows, he has spent the off-season writing, directing and starring in this production. After receiving unexpected interest for his script, Braff was surprised to discover that Queen Amidala herself, Natalie Portman, was willing to portray the female lead. We have no idea how he could possibly follow up such a perfectly coordinated first production, but we can't wait to see how good a movie that funny intern can make.
6) Troy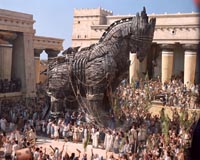 Never mind the fact that Orlando Bloom looks like a big doofy girl; Eric Bana, Brad Pitt and that new hottie Diane Kruger still look great in their togas. The trailer's great money shot showing the arrival of the massive Greek fleet is truly on a par with "the wave" in director Wolfgang Petersen's previous big-budget extravaganza The Perfect Storm. We're also waiting on pins and needles just to see exactly what happens with that giant horse thingy. And hey, any movie based on a poem by a guy named Homer is all right with us.
Click here to read selections 25-21.
Click here to read selections 20-15.
Click here to read selections 15-11.
Click here to read selections 5-1.

Click here for an alphabetical list of all selections.