The Bop 25 of Summer 2004: 20-16
20) Warriors of Heaven and Earth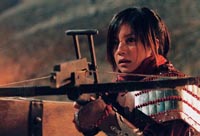 Quick, what's the difference between Sony Pictures Classics and Miramax? The Sony indie arm treats the finest in Asian cinema like the treasures these releases so often are. Weinstein and Co. delayed Hero so often that several of the children in the film are now members of AARP. What does that have to do with this title? Sony Picture Classics is distributing China's 2003 Academy Awards submission for Best Foreign Language Film.
Why is this one on the list? Long time readers of BOP know how much we love Crouching Tiger, Hidden Dragon and Hero. Anything in this genre will immediately get our attention, but in the case of Warriors of Heaven and Earth, the answer is much more simplistic. We think it looks pretty.
19) The Chronicles of Riddick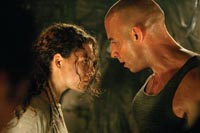 It's been more than four years since Pitch Black wowed us with its bare-bones approach to effective sci-fi horror. The saga of Richard B. Riddick (Vin Diesel) continues five years after the escaped convict's experiences on a bleak planet full of malevolent, hungry creatures. Now, Riddick finds himself caught in the middle of two opposing factions in an action known as the 10th Crusade. With director David Twohy at the helm and responsible for the screenplay, there's a lot of reason to hope that The Chronicles of Riddick will be every bit as suspenseful, creative and unique as his previous efforts --The Arrival, Below and the aforementioned Pitch Black.
18) The Manchurian Candidate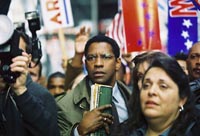 A remake of the 1962 John Frankenheimer classic, this 21st century update replaces Frank Sinatra with Denzel Washington in the central role. This isn't the first time director Jonathan Demme has remade a "hallowed classic" -- in 2002, he updated the Cary Grant/Audrey Hepburn thriller Charade and called it The Truth About Charlie. While that film was generally poorly received critically, The Manchurian Candidate's subject matter is far more ripe for the picking. Instead of being a Korean War veteran, Washington will portray a former soldier of Desert Storm, who becomes very suspicious about his experiences in the Gulf War when Squad Sergeant Raymond Shaw (Liev Schreiber), son of a powerful senator named Eleanor Shaw (Meryl Streep) becomes a Vice Presidential candidate. Brainwashing, psychological tricks and political intrigue all factor in, making The Manchurian Candidate an intriguing entry into the summer movie race.
17) Around the World in 80 Days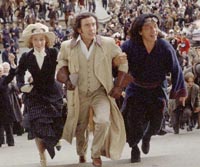 Based on the classic Jules Verne novel, this latest adaptation of the classic tale features an exemplary cast. Steve Coogan is enormously popular in Britain and drew considerable positive attention for his performance in the indie flick 24 Hour Party People. His dry delivery suits the Phileas Fogg character quite well. Alongside him as Passepartout is the inimitable Jackie Chan, whose humor and talent will naturally lend themselves to this family-friendly story. Also appearing in cameo-type roles? Arnold Schwarzenegger, Owen and Luke Wilson, John Cleese, and Sammo Hung (as Wong Fei Hung, a great inside joke for anyone familiar with the character's progression from Iron Monkey, Drunken Master and Once Upon a Time in Mexico). With Walden Media -- which was the creative force behind surprise family hit Holes and has The Lion, the Witch and the Wardrobe coming in 2005 -- as the company behind the production, expect a film with enough ingenuity that it should be lots of fun for all ages.
16) I, Robot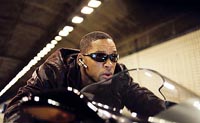 Do you remember that Simpsons Treehouse of Horror episode where the Krusty Doll was set to evil? I, Robot is basically the same concept taken to a sci-fi extreme.
Rupert Murdoch's sycophants at Fox were looking for a lucrative book series which could be adapted into a potential film franchise. They settled on the Isaac Asimov standard which has been the subject of innumerable debates amongst high school A/V club members. To the chagrin of these maturing nerds, Will Smith has been selected to play the lead role. This decision has hereby created an awkward merger between the studio system's normal practice of A-List casting and the Peter Jackson style of making the play the thing when it comes to classic Geek Literature. For his part, Will Smith still owes mechanized robots a sound beating after a giant robotic spider in The Wild, Wild West ruined his career.
I, Robot sounds like a film with a potentially high Suck Factor, but the ominous assembly line robots shown off in the trailer are cause for hope. Their menacing look has been taken as a promising sign that maybe, just maybe, this one won't make Asimov roll over in his grave.
Click here to read selections 25-21.
Click here to read selections 15-11.
Click here to read selections 10-6.
Click here to read selections 5-1.

Click here for an alphabetical list of all selections.