Survivor: Game Changers
Casting Spoiler - Part 2
By Jim Van Nest
January 17, 2017
Hello, good people!! They just can't keep me down...I keep coming back. This time I'm back with a little quick hit though. Several months ago, I brought you a casting spoiler column for the upcoming 34th season of Survivor. I left 2 names off that list because I refused to spoil myself by seeing them prior to their season airing. Well, now Millennials vs Gen X is over and we can go ahead and talk about the 19th and 20th person on next season's "Game Changers" cast.

Before we get to them, though, I have to touch on the title "Game Changers." Ozzy...sure. Sandra...yep. Tony...most definitely. But Sierra? Hali? Troyzan? What did any of these people do to "change" the game? Hell, I can even give Brad Culpepper a pass on this one as he was the first person I can remember to suggest burning a clue to a hidden idol. But, some of the casting choices are laughable as game changers and some are just offensive. Hopefully, they'll come out and prove me wrong, but for right now...UGH!! Anyway, let's get to the final two castaways on this season.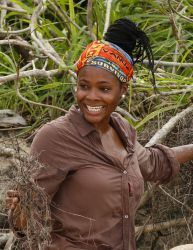 Michaela Bradshaw (Millennials vs Gen X) - Michaela was nothing short of a complete powerhouse in Season 33. She dominated challenges and she was one of the few Millennials trying to use strategy in the game. The problem is that she was SO obvious about it that one of the other people on her tribe that was thinking, Jay, decided she was too smart and had to go. Michaela now finds herself in an odd place. She's with a bunch of other All Stars who've never seen her before. They left before S33 aired. They know nothing about her, other than; she did something good enough to warrant coming back immediately. Also, with such a short turnaround, will she have had enough time to see the flaws in her game and correct them? I've often heard returning players talk about how important it was for them to have some time off to really work it all out before they went back out. I do expect one thing from Michaela and that's more challenge domination and I think that's something that will win her early points and then turn around and make her a target at the merge.




Zeke Smith (Millennials vs Gen X)
- I'm very excited to see Zeke get another chance to play the game. Zeke turned out to be a strategic leader on S33 and he was not too bad in the challenges himself. The biggest sign of Zeke's power in the game was when he convinced 4 other people that it was in their best interest to pull rocks to keep him in the game - KNOWING that he would actually end up immune to the rock draw itself. So, Zeke can get people to follow him, but he falls into the same category as Michaela and might actually have it harder. Michaela can go out and dominate a couple team challenges and other players may think, "Ah, that's why she's here, she's a challenge beast." Zeke, however, isn't that good in challenges and he doesn't stand out in any other way. So the only assumption that can be made here is that he's a good strategist, possibly a great one. That's super threatening to returning players who know nothing else about you. Zeke is going to have to hit the beach playing hard if he's to ingratiate himself into his tribe and not be targeted as the "unknown."
And there you have it, kiddies, the final 2 castaways for season 34 - Game Changers. Just in case you've forgotten the rest of the cast, you can find them all
Right Here!
Survivor: Game Changers will premiere on Wednesday, March 8th and will be a 2-hour premiere. It should be noted that the season will start a couple weeks later than normal and will likely feature 2 boots in the first episode. I'll be back a little bit before the season to give my predictions for the upcoming season. I was horrible predicting Season 33; hopefully I'll get my mojo back for Season 34. Til then, kids, take care!