Survivor: Millennials vs. Gen X - Season Preview
Gen X Tribe
By Jim Van Nest, Gen X'er
September 21, 2016


Jessica Lewis - Here's the second Jessica on our cast AND the second attorney. Jessica is an assistant DA in New York and seems to be very passionate about her job. She seems to think that her skills as an attorney and her ability to size up a jury will serve her well with the Final Tribal Jury. See what she did there? She already has herself at the end. She's also a wife and a mother. She's the youngest of four girls born to farmers. So much of her younger life was spent helping on the farm with the rest of the family. If nothing else, that's given her a work ethic and made her physically stronger. Jessica is rocking a sweet almost full back tattoo, though the video doesn't really show us what it is. I'm not sure Jessica has a winner profile, but I do think she could be a solid under the radar player. She likens herself to Cirie Fields, which bodes well for her, I guess. However, everyone is on to Cirie's game now, so I hope she doesn't go out there claiming to be the new Cirie. No one would ever trust her again. Also, Jessica holds the distinction of being the first of the Season 33 cast to follow me on Twitter. Sure, that means little to you, but it's important to me...and I'm in charge here!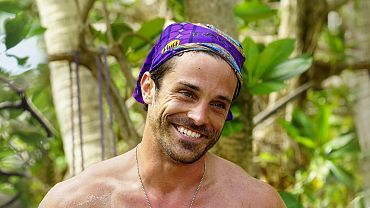 Ken McNickle - Ken is aptly named. He looks like a Ken doll. He's a model who had spent several years living completely off the grid. Solar panels, composting, growing his own food, everything. Then he got word that he was a father to a four and a half-year-old girl. I can only assume that some bad choices got him into this situation, but he seems to have stopped everything, gotten back into the world all to raise his daughter. Not sure how it happened, but he calls himself a single dad, so I guess he's raising her now. He's playing this game for her and hopes to use the money to provide for her and help other people, which is his daughter's wish. Due to living off the land for so long, he expects to be an integral part of his tribe's physical survival. Ken seems like a great guy and he has the potential to be a great player. But all I can see when I look at him is "merge boot." He'll make the merge, but I don't think he'll live through it. He's the exact type of alpha male that they love to send to Ponderosa first.




Lucy Huang
- Lucy might have the title of the "hardest person for me to get a handle on" in this cast. She's a 42-year-old dietician and mother of four. She's also a pro body builder now. She wants to show people that moms can do all kinds of things, including win Survivor. She doesn't give much insight into how she'll play the game or what her strengths are. I think she's one that might be hoping to be a tribe mom out there and boy won't she be disappointed. I honestly could see Lucy going anywhere from first boot overall to the final four or five. She could easily be one of the people that make it deep in the game based on the alliance she makes. She doesn't strike me as the person to lead an alliance, but she can be a loyal vote and all of a sudden at final five, we'll be trying to figure out how she's still in the game. So, I'm gonna have to put some more thought into the potential for Lucy, because right now, "Got nothin' for ya."
Paul Wachter
- If Zeke is the Millennial that everyone will love and that will give amazing confessionals and won't last to the merge - Paul is the Zeke of the Gen X tribe. Paul is a rock cover band singer, he rocks the long hair and looks the part, but when talk comes to the Millennials, he sounds more like the old guy telling the kids to turn their music down. Paul hates a participation trophy and feels that the new generation is lazy, whereas Gen X are crazy hard workers. Anyway, I fully expect him to give great confessionals. I also fully expect him to annoy even his own tribe. I don't think they're ready for a personality this big and being the oldest and largest, he might have to be voted out to help the older and more out of shape purple tribe keep up with the younger, faster, stronger orange tribe.