Hail to the King, Baby
David Mumpower's Weekend Wrap-Up
December 19-21, 2003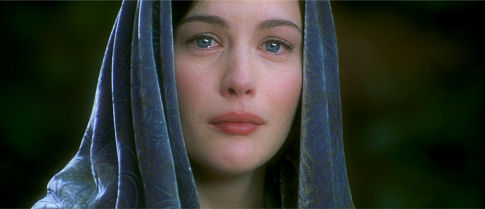 Six weeks ago, Joel Silver and the Wachowskis did everything they could to lay claim to the largest global five-day opening in box office history. As we fast forward to today, Peter Jackson is having the last laugh. Big time.
The Lord of the Rings: Return of the King handily won the box office crown this weekend by making more than the rest of the top ten combined. RotK's three-day total of $73.6 million easily breaks the December record previously held by The Lord of the Rings: The Two Towers, and before that The Fellowship of the Ring. Sensing a pattern here?
In the process, RotK took The Matrix Revolutions' five-day domestic total of $83.8 million and raised it by 49% with a stunning Wednesday-to-Sunday tally of $125.1 million. Not only that, it eviscerated The Matrix Revolutions' worldwide five-day record of $202.8 million by taking in $246.1 million globally, an increase over the previous mark of 21%.
While the final film in the franchise did not reach the four-day tally of The Matrix Reloaded, it is only a matter of weeks before RotK reaches that film's domestic total of $281.6 million. There even exists the possibility that RotK will equal the combined tally of the two 2003 Matrix releases, roughly $415 million. This number would put it in Spider-Man territory. BOP will track Return of the King's pursuit of where the film stands among the greatest earners of all time in the coming days as we do our annual daily numbers analysis for the holidays.
Finishing a more than $60 million distant second is Mona Lisa Smile, which managed a respectable but disappointing $12.0 million thanks to the star power of Julia Roberts, Kirsten Dunst, Julia Stiles and Maggie Gyllenhaal. In the end, it was not enough that such a definitive chick-flick was counter-programmed against the Tolkien epic. Excluding her minimal roles in smaller films such as Confessions of a Dangerous Mind and Full Frontal, Roberts has not had an opening as poor as this since 1996. It was her trifecta of disappointing releases in that year – Everyone Says I Love You, Michael Collins and Mary Reilly – that had put her career in jeopardy before My Best Friend's Wedding returned her to proper It-Girl status.
Of course, the game plan for Sony/Revolution Studios has always been about the marathon rather than the sprint for this end-of-year awards hopeful. The half-empty glass perspective here is that a quick check of BOP's awards section reveals that Mona Lisa Smile has been completely shut out of major awards recognition thus far. While the film should do very strong business over the next two weeks, it appears likely to go down as a rare miss on Roberts' resume.
Sliding two places to third is last weekend's surprise number one film, Something's Gotta Give. The uncomfortable comedy about a Keanu Reeves/Diane Keaton/Jack Nicholson love triangle held up rather well on the whole. It earned an estimated $11.5 million, a decline of 28% in its second frame, and has now grabbed a total of $33.5 million. With Keaton and Nicholson both receiving nominations for Golden Globes, the film picked up some mid-week heat, which should help carry it to strong receipts over the remainder of the holiday season.
Falling from second to fourth position is The Last Samurai. The Tom Cruise epic made an estimated $7.3 million this weekend, off an alarming 48% from last week. After falling only 42% in its second frame, the steeper week three drop indicates that the market for a Shogun for a new generation is largely nonexistent. As with Vanilla Sky, this film might be able to creep along to $100 million, but anything more than that is out of reach at this point as the film has a current total of $59.1 million.
Elf, the surprise story of the holiday season, continues to jingle along in fifth place with a festive $5.0 million, bringing its jolly total to $154.3 million. In six months, Will Farrell has gone from being the third wheel behind Luke Wilson and Vince Vaughn to getting groomed as the next great Saturday Night Live breakout star. A few days after pulling off one of the greatest box office upsets ever by passing The Matrix Revolutions' overall total, Elf is now poised to blow past $175 million and even more shockingly, to approach $200 million. Keep checking back at BOP this week to see where we rank this feat among our Top 12 Stories of the Year.
Plummeting precipitously to the six spot is the latest Farrelly Brothers effort, Stuck on You. North America is clearly not ready for a comedy about conjoined twins, and this is proven by the film's ten-day tally of only $17.1 million, including this weekend's total of $5.4 million. After a very low opening weekend of $9.4 million, the 43% decline indicates that this one is forked. E! is probably preparing Greg Kinnear's True Hollywood Story as we speak. And, hey – it'll be nice to see some of that Talk Soup footage again.
Continuing to hang around the bottom of the top ten is Bad Santa, which finished in seventh for a second consecutive week. Apparently, a certain sect of the North American movie audience overly identifies with the concept of the holidays not equating to mistletoe, presents, and fireside family sing-a-longs. For them, the idea of a drunken, lecherous man in a Santa Claus suit brings back fond memories of their Uncle Lou, though Lou's girlfriends never looked like Angelina Jolie. Or Lauren Graham, for that matter. This must be the reason that Bad Santa dropped only 29% this weekend with $4.3 million. Bad Santa's running tally of $42.1 million is respectable, and the film should do well in the coming days as word-of-mouth is unexpectedly good. A general rule of thumb is that holiday black comedies are near-automatic box office death, but Bad Santa is proving to be a noteworthy exception.
In eighth place this week is The Haunted Mansion, a good news/bad news proposition for Disney. The good news is that with a $4.2 million weekend and $59.1 million already in the bank, it is no Country Bears. The bad news is that unless it finds another $250 million in the coming weeks, a slightly less likely proposition than Saddam Hussein having Christmas dinner with the president, it is also no Pirates of the Caribbean. Of course, if you didn't know by now that Eddie Murphy is no Johnny Depp, you just haven't been paying attention.
Falling to the ninth spot is Love Don't Cost a Thing, the movie that makes me long for the days of Patrick Dempsey (and Seth Green). While the idea of remaking the tender '80s film Can't Buy Me Love is a quaint one in theory, in execution it has been obvious that the marketing department has no idea what to do with it. The result has been an ad campaign that seems to think the movie is a cross between 10 Things I Hate About You and Friday, and really, who in the world would want to see that other than Chris Tucker and Heath Ledger (especially after the disaster that was The Order). Love Don't Cost a Thing limped to an estimated $4.0 million, bringing its running total to $11.4 million. Even given its slight budget, this film will have to wait for DVD to recoup its costs.
Jessica Alba takes tenth place in the top ten this week with her Flashdance/Save the Last Dance yarn, Honey. The Universal release fell 47% this week for a weekend total of $2.6 million. Before you fan boys go writing in, no, this is probably not enough to greenlight Dark Angel: The Movie or The Talking Dictionary 2. Honey now sits at $23.5 million in what is sure to be its last weekend in the top ten.
The top ten box office this week is up 2% from last year, with a Peter Jackson film being the driving force in both periods. Estimates for 2003's top ten come to $129.8 million, an increase over last year's total of $127.1 million. Christmas Day sees the release of Cheaper by the Dozen, Cold Mountain, Paycheck and Peter Pan. The John Woo/Ben Affleck/big-budget sci-fi production, Paycheck, will be the odds-on favorite to come out of the gate most quickly and burn out first, while the family classic Peter Pan and the Steve Martin/Hillary Duff starrer Cheaper by the Dozen will vie for children's matinee ticket money. Cold Mountain, the current frontrunner in the Oscar nomination race, will likely be a box office factor from now until after the awards are presented.
Top Ten for Weekend of December19-21, 2003

Rank

Film

Number of Sites

Change in Sites from Last

Estimated Gross ($)

Cumulative Gross ($)

1

The Lord of the Rings: Return of the King

3,703

New

73.6

125.1

2

Mona Lisa Smile

2,677

New

12.0

12.0

3

Something's Gotta Give

2,677

No change

11.5

33.5

3

The Last Samurai

2,938

+30

7.3

59.1

5

Stuck on You

3,007

+4

5.4

17.1

6

Elf

2,451

-425

5.0

154.3

7

Bad Santa

2,225

-315

4.3

42.1

8

The Haunted Mansion

2,414

-587

4.2

59.1

9

Love Don't Cost a Thing

1,844

No change

4.0

11.4

10

Honey

1,824

-148

2.6

23.5

11

Dr. Seuss' Cat in the Hat

2,121

-834

2.3

93.9

12

Master and Commander: The Far Side of the World

1,050

-573

1.4

78.4