Better Luck Tomorrow
By David Mumpower
May 14, 2003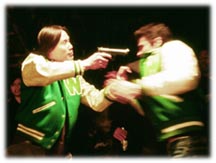 Ben Manibag is a middling basketball player with a penchant for free throw shooting and a secret fear that he has received a letterman's jacket because of his nationality rather than his athletic prowess. His days are comprised of a never-ending stream of socially conscious activities from a high school debate club to an after-school job to charitable activites, all of which are done for the singular purpose of boosting his already-impressive college application. He's the male version of Rory Gilmore.
The man is such an overachiever that his failure to receive a perfect score on the verbal section of his SAT is an inducement for him to boost his vocabulary each day in order to be better prepared for the next testing date. He is neurotically obsessed with the number of items he can use to define who he is as a person when his dossier is studied by college acceptance boards. What his identity essay should say is much simpler though; Ben Manibag is a disaffected youth searching for a buzz.  
Mirroring his discontent are his various friends and associates. There is silky smooth Daric, a man who defines grace under pressure. It's his slanted article in the school paper which places Ben squarely on the path of destruction. By way of apology, he becomes something of a mentor to Ben in the art of getting away with everything. Their inner circle also includes Virgil, the gimp of the bunch. He has been kicked early and often in life, so his taste for power and revenge has become his raison d'être. The vicious temper is a happy bonus. The yin to Virgil's yang is Han, a seemingly withdrawn man who is every bit as violent as his smaller friend but for less readily obvious reasons. His resentments appear largely based on the class system and his place within it, so the group's criminal activities appeal to him because they make him more upwardly mobile.  
The group's dynamic is altered irrevocably when random chance places Stephanie Vandergosh (played by scene stealer/goddess Karin Anna Cheung) next to Ben in their Biology class. As they begin to interact, he is smitten by her combination of beauty, brains and rumored starring role in a porno. The catch is that she is already attached to Steve Choe, a rich kid who goes to a better school. Choe picks up on Ben's attraction to his lady, and suggests that they begin to attend formal school functions together. This forced interaction between Ben and Stephanie is the impetus for his fall from grace. After he is bewitched by her beauty, Ben becomes more aware than ever of his impotence and boredom with the current state of his life. The chain of events that follow as they pull off several crimes and grow to be considered the mafia of their high school is a textbook study of a good kid's descent into the realm of moral ambiguity.  
The bored teenager trapped in suburbia who looks for subversive hobbies to overcome the monotony of high school theme is almost as old as celluloid itself. Somehow, though, Better Luck Tomorrow manages to come across as one of the freshest films in the past several years. While it borrows liberally from several other low-budget indie movies such as when it uses the Run Lola Run flash photography to show a person's ten second biography or when new scenes are introduced in the Clerks style of SAT-level vocabulary entries, director Justin Lin succeeds in making the tone feel original to his movie. A lot of the credit for this rightfully goes to Parry Shen, a virtually unknown 30-year-old actor who somehow manages to ace the role of a graduating high school student to such a degree that it must make the entire cast of 90210 jealous.  
Shen's portrayal of Manibag is not of a naive kid caught up in a world of fast cash and cheap thrills. Instead, he boldly shows the character as intentionally self-destructive.  He begins by ripping off a local office supplies store by changing bar codes for returns. From there, it feels natural to rig a few tests for cash but then Ben willingly jumps off from these relatively harmless shenanigans into the murkier realm of alcohol, drugs and theft. He is not a victim, but rather a kid who relishes the darkness and who wants to break the land-speed record for going from having a good life to hitting rock bottom. Truly, it's one of the finest self-destructive cinematic displays since Robert Downey Jr. in Less Than Zero.  
Despite his actions, however, the true accomplishment of Shen is that we never stop pulling for Ben, anti-hero though he may be. Even after he has pulled off a string of transgressions that would make the Malcolm McDowell character in A Clockwork Orange proud, I still found myself emotionally involved with the character to the point that I was deeply concerned he might not get the girl. Better Luck Tomorrow might be too dark for some, but I consider it to be one of the most realistic and entrancing depictions of teenage wasteland cinema I have ever seen.