Better Luck Tomorrow
By Kim Hollis
May 14, 2003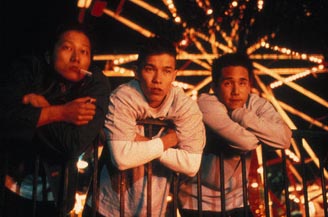 Better Luck Tomorrow is not just another teen movie.
The film might have the MTV name attached in the various promos, but it's not a flick that is precisely aimed at the same crowd that made Jackass a hit and The Real Cancun a financial disaster. Better Luck Tomorrow is probably more akin to Election, another MTV production that was substantially greater than the sum of its surface parts.
That's not to say that it bears much similarity to the story or genre of Election, other than the fact that Better Luck Tomorrow also focuses on a group of overachieving high school kids. Instead, the similarity is drawn from the fact that both movies aim higher than the lowest common denominator, resulting in two productions that offer smart, biting commentary, albeit in very different fashions.
In the case of Better Luck Tomorrow, we become acquainted with a group of Asian students who have everything going for them. The central character amongst the group is Ben Manibag, a nice, straightforward kid who is easily getting straight A's in his classes, plays for the JV basketball team, participates with his cohorts in the successful Academic Bowl, and is consistently employee of the month at the fast food joint where he works.
He hangs out with other kids who are of similar ethnicity and have achieved comparable levels of accomplishment. Virgil is the philanthropist, who is consistently the best fundraiser among his compatriots, Daric is a member of the tennis team and editor of the school paper, and Han is another cohort on the Academic Bowl team. Also in the mix are Ben's biology lab partner, Stephanie, who is not only brilliant but also a cheerleader, and her boyfriend Steve, a student from a rival school who has already been accepted to numerous Ivy League schools. All of them are driven to succeed and to participate in activities that they can put on their college applications.
Simple academic success just isn't enough to satisfy Ben, Virgil, Daric and Han, though. The four young men soon learn that they are practically bulletproof in regards to "breaking the rules." They start simply, by writing out cheat sheets that can be sold to their fellow students for a hefty cost. From there, the friends expand into heavier crimes such as drug dealing and theft. Money is rolling in and nothing is out of reach, but oddly enough, the cash isn't even the object. It's all about the thrill.
Watching these obviously bright kids spiral further and further out of control is sickeningly fascinating, probably mainly because the cast is so winning. Rather than making this film a big Hollywood production with big marquee names, the players are mostly unknowns. This fact is all the more impressive in light of the fact that the actors in this film are consistently engaging and capable. Since the plot is primarily driven by Ben's narration, it is crucial that he be played by a performer with a strong degree of talent. Parry Shen, who very strongly looks the part, is actually a 30-year-old veteran of the industry, though none of his roles have been universally recognizable. While it would be easy for this character to become unsympathetic as he brashly descends into criminal life, Shen keeps Ben grounded in the attributes that make him so likable - he's an ingenious young man who just can't help but be swept up in this exciting new world.
Jason J. Tobin's Virgil is likewise played to near perfection. He's far less easy to like, partially because he's somewhat insane and almost totally annoying. Virgil is so far over the line that it's almost possible to empathize with Han (Sung Kang) when he beats his friend mercilessly as payback for a stupid mistake.
Rounding out the cast are Roger Fan as Daric, John Cho (one of the MILF guys from the American Pie films) as Steve, and newcomer Karin Anna Cheung in the role of Stephanie. All three of the performers are up to the task; Fan is very convincing as the somewhat smarmy and too-smart-for-his-own-good newspaper editor, while Cho is deliciously ambiguous as he's a personable golden boy who still manages to be detestable. Cheung makes the most of her debut; the audience is able to rather promptly determine that there's a lot more to her than meets the eye.
Director Justin Lin uses a clever technique to propel the narrative, evoking various themes in the process. As part of his goal to achieve a perfect Verbal score on the SAT, Ben memorizes words and their definitions, repeating them throughout the day. To separate the film into little sections, the word appears onscreen with its definition, establishing the motif for that portion of the story.
The action is propelled by a hot soundtrack that has its base in hip-hop and electronica. The music sets the tone for things to come and keeps a plot that could potentially get mired in depression more upbeat than it deserves to be. Even as you know that what these kids are doing is inappropriate and indeed stupid, you still root for them somehow.
It's a far cry from the typical teen tripe that is so readily greenlit these days. Refreshing isn't quite the appropriate word, but Better Luck Tomorrow is certainly unique in its portrayal of an apathetic and disaffected ethnic American group. Including Jerry "The Beaver" Mathers in a brief cameo as a teacher is just another wicked little masterstroke - here's a guy who played a mischievous troublemaker in a classic '50s television series, but his antics could never come close to approaching those of the players in this film. Who knows what may pass for tame misbehavior in 45 more years?