Top 50 Underappreciated Recent Films
5) Bottle Rocket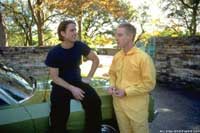 --We meet Wes Anderson. We meet Luke Wilson. We meet Owen Wilson. Luke Wilson plays great against Lumi Cavazos. Owen Wilson kicks major ass as a total dork with no effin' clue. Wes Anderson proves his ability to tell a decent story, as do the Wilsons. Scene to watch for: A wide-angle shot at sunset with Luke Wilson floating in the pool. One of the simplest and prettiest things delivered by an independent filmmaker in the last ten years. (Matthew Kinney/BOP)
--You could have been forgiven for overlooking Bottle Rocket on first glance; in the mid-'90s, indie slacker films were everywhere, as a new generation of filmmakers tried to make their marks. Most were dreary exercises in pre-millennial angst and if you'd seen one, you'd seen them all. Not this one, though, as it was one of the few to find and present a unique style and rhythm.
The directorial debut of Wes Anderson, Bottle Rocket tells the story of three Texas friends who think big but lack a little in the execution department. For that matter, there's nothing they couldn't over-plan. For example, the movie opens with Dignan (Owen Wilson) breaking Anthony (Luke Wilson) out of a mental institution with an overly-complex plan, filled with hand signals and props. However, the institution is minimum security and Anthony is there voluntarily. Dignan has big plans once he gets Anthony out involving the almost mythical crime boss Mr. Henry. Somehow, he thinks he can pull them off by sheer force of personality, mostly by bluffing.
While both Wilsons are excellent here in their debut performances, it's Owen who's the standout. Forming the base for almost all of his future roles, he gets all the good lines (Naturally, since he co-wrote the script) and creates a very memorable character, one so enamored with the idea of being a criminal that he's never bothered to think about whether he's cut out for the job. He's really a tour de force in all of his scenes.
Not merely a wacky comedy, though, it's a wonderfully unpredictable film with a surprisingly sentimental and romantic touch to it. It's no wonder that Wes Anderson became one of the few directors of his ilk to make it through the initial audition. (Reagen Sulewski/BOP)
4) American History X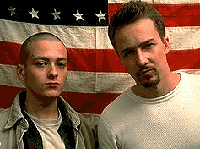 --There are certain subjects that, when handled correctly in film, really punch you in the gut. Racism is one of these topics. In recent years, no movie has handled this topic better than American History X. In a short career filled with excellent performances, this is Edward Norton's most impressive work to date. He plays Derek Vinyard, a former skinhead whose time in prison has caused him to see the error of his ways. After being released, he is determined to stop his younger brother from making the same decisions he made earlier in life. While the plot may sound schmaltzy, it is anything but. This may be due in part to the film's gruesomeness, and indeed, the film is most certainly not for the faint-of-heart. However, it is an extremely powerful film, and definitely one that everyone should see. The action on screen may be disturbing, but unfortunately it is hard to argue that it is anything but realistic. This is a film that will make you think long and hard, but never seem the least bit over-the-top or preachy. (Zach Kolkin/BOP)
--I can appreciate in one sense why this movie didn't find a mass audience; it's way too disturbing, way too violent, way too upsetting to watch. It is soaked in hate and presents a marvelous but hideous picture of a family being torn apart by the rage of its two sons, who become Nazi skinheads after the fireman father of the family is killed by black crack dealers while putting out a house fire.
Edward Norton (who has done some very impressive work) is absolutely golden in this movie; you see in some detail as he changes over time from confusion to directed violence and hate as the pawn of the white supremacist guru of a skinhead gang. I can't recall a movie that has so resounded in angry emotions as this one; in probably the most shattering scene of a powerful movie, Norton's character is having wild sex in the back bedroom, and on learning mid-thrust that black gang members are threatening his property, he gets up, goes out and kills them in a ferocious, lionlike rage.
Half the movie is Norton's character on his way up to this point (which sends him to jail), and half is what happens after: Prison, an understanding of what a waste his life has been, and a just-as-lionlike attempt to rescue his adoring little brother, who is following in his footsteps, from disaster in the same way. The two halves are shown back-and-forth, as we see how he struggles with rage in the past, we switch to see the fear in his eyes in the present. (Jim Rittenhouse/BOP)
3) You Can Count on Me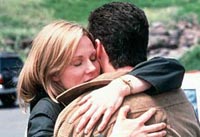 --This quiet, unassuming little movie was one of my favorites of 2000. The plot seems benign enough; a single mother named Sammy who still lives in the town she was born in is surprised to find her drifter brother, Terry, return home for a while. However, it's not that simple. Sammy, played by Laura Linney, is having an affair with her boss at the bank where she works. Terry is only home to try to get some cash. While all this is happening, though, Terry develops quite a relationship with Sammy's son, Rudy. He becomes, in essence, the father Rudy never had. Strangely, there is not a lot of plot to the movie; the characters simply live their daily lives. The movie's strength lies in the fantastic performances of the actors and actresses, particularly Linney and Mark Ruffalo, who plays Terry. Even Rory Culkin (the one from Signs, not Cider House Rules) does an excellent job as Rudy. This isn't the kind of movie whose excellence stems from a particularly powerful message, or an innovative style of filmmaking; instead, it is just a great movie that is very enjoyable to watch. (Zach Kolkin/BOP)
--Every truly great film is the product of a great script, and of the 50 films on our list, You Can Count on Me is undoubtedly the best scripted. Kenneth Lonergan's script is brilliant in its subtlety while remaining ambitious in its emotional scope. Every character in You Can Count on Me is fully realized and has depth not normally seen in films today. The character dynamic and the emotional drama make the film incredibly personal and incredibly touching. The characters in this film do not talk about their feelings like they are in a bad melodrama; instead, they talk about their situations and lives and the way they respond to certain actions and how they deal with the consequences of those actions allows the audience to connect the emotional dots. What's most impressive about the script is that it doesn't rely on witty dialogue and manufactured catch-phrases; instead, it is in the quietest moments that the film is most effective. As a perfect script and an absolute masterpiece of American cinema, You Can Count on Me deservedly makes a strong showing on our list. (Walid Habboub/BOP)
2) Babe: Pig in the City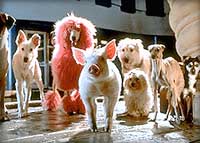 --Part Fritz Lang dystopia and part Federico Fellini dreamscape, George Miller's Babe: Pig in the City is shockingly artistic and no less shocking in its ability to move. Evoking King Vidor's silent film The Crowd, Miller, like Vidor, posits The City as demoralizing corruptor; the adult realm is metaphor for loss of innocence. Babe is the very essence of purity and thus easy prey to the perils of the vice-filled City. His downfall - virtue - is his strength, and Babe's ability to endure with his goodness intact is a triumph. (Alex Hudson/BOP)
--In 1995, a small fable (written by, in the head-scratching genre cross-over of the decade, Mad Max creator George Miller) about a pig named Babe took the movie world by storm, earning a surprising amount of money and a Best Picture nomination. Like most films that are cheap to produce and make tons of money, this led to a sequel. Far more than a mere cash-in, Miller took the full reins of the project and expanded the world of Babe and his animal friends into something much more than the original. The result was Babe: Pig in the City (B:PITC from here on), one of the more magical films I've ever had the pleasure to see.
After inadvertently injuring Farmer Hoggett, Babe is pressed into service to save the farm by exhibiting his sheep-herding skills at a huge fair. An ill-timed conversation with a drug-sniffing dog in the airport leads to Babe and Mrs. Hoggett (who, as Babe's protector in this film, gets to do a 180 in her attitude towards our porcine friend) being stranded in The City, and what a city it is. Taking elements from Paris, New York City, Venice, Sydney and countless others, Miller has made one of the most astounding city sets of all time, making it both familiar and strange at the same time. The fantastic look of the film is enough to recommend it on its own; thankfully, that's not all it has to offer. Those expecting a simplistic children's film will be shocked at the depth of B:PITC. As Babe and Mrs. Hoggett try to survive in The City and figure out how to save the farm, they run into the casual cruelty that occurs when people start to group together in large numbers and don't know everyone anymore. The highlight of this theme is a heart-breaking sequence of Babe being pursued by a bulldog around a moonlit city square, while a gaggle of other animals stand idly by. A surprising action by Babe turns the tide among his animal kin but The City isn't done with them yet. There're really no overt villains in this movie; merely people and animals simply doing their jobs. However, it shows how seemingly insignificant acts of kindness and cruelty can have far-reaching effects.
It's excellent in all respects, including acting, which is a strange thing to say about a film with only two significant speaking parts. What I mean here is the animals, who are more talented performers than some human actors. You will forget that you're watching animals with digital effects moving their mouths (I almost said lips here; that's how pervasive the illusion is); one orangutan in particular is as expressive as any natural actor. Hey, stop looking at me like I'm crazy and watch it for yourself. Perhaps the only thing that doesn't work is a re-enactment of the Thunderdome sequence from the third Mad Max film, but it's so crazily executed that even that becomes a positive. To dismiss the film as mean-spirited and strange (as many did) is to miss the point completely and to be blind to the nature of the first film. It's not mean-spirited but truthful about human nature, which can be a difficult thing to accept. It's also extremely optimistic; of course it has a happy ending, but it's more satisfying since it's so hard won. Like Toy Story, the film is pitched at a level that children can understand and enjoy but the true themes are aimed at their parents. Overcome your prejudices about "children's" entertainment and give B:PITC a chance; just remember to thank the pig when you're done. (Reagen Sulewski/BOP)
--A common thread our one-two punch of "kids" movies at the top of this list is that they play better for adults. That explains both why they didn't make any money at the box office ($18.3 million), and why they fared so well on the ballots of mostly 20- and 30-something voters. Foremost on my mind while watching Babe 2 was amazement at the technical feats involved in making the movie in the first place. Immediately following that, however, was acknowledgement of how original and enjoyable the story was. Watch this one with your kids. Or rather, use your kids as an excuse to watch this gem of a movie. (Calvin Trager/BOP)
--For me, the best thing about this film is that it wasn't just a sequel for the sake of making a sequel. It actually had new characters that added to the story. When I saw the film, it felt like they had actually put thought, feeling, time, and effort into it. I won't lie to you and say that I liked this better than the first movie, but it really wasn't that steep of a drop-off in likeability. It is a bit darker than the first one so it may not appeal to children as much, but it still has lessons in morality for every age group. (Marty Doskins/BOP)
1) The Iron Giant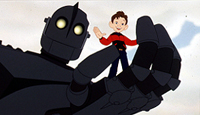 --"You are who you choose to be."
"SUUUU-per-maaaan."
Makes me cry every time. (Matthew Kinney/BOP)

--A wonderful film for all ages, Iron Giant was criminally under-marketed at the time of its release in August of 1999. What appeared to be a simple and perhaps dopey story about a boy and his robot turned out to be much deeper and emotionally resonant.
Set in the cold war era of the late 1950s, the film is based on the 1968 short story "The Iron Man," by British poet laureate Ted Hughes. It hearkens back to a time when societal worries included fear of atomic bombs and even otherworldly invasions. So, when ten-year-old Hogarth discovers a giant metal man in the fields behind his home, it is natural that his childlike innocence would prevail over trepidation and he befriends the Iron Giant. It's not easy to hide a 50-foot tall machine, though, and eventually the secret is discovered by less tolerant individuals.
In its short 86 minute playing time, Iron Giant manages to explore a tremendous variety of issues. Prejudice and narrow-mindedness are represented in the personage of one Kent Mansley, an army operative obsessed with finding invaders and other various and sundry bad guys. His bias goes further than just his search for the "invader," though, as he pokes fun at Hogarth, the small-town mindset and its inhabitants. On the flip side, of course, is Hogarth, but there are also some adults in his corner, most his mother, Annie, as well as Dean McCoppin, a beatnik artist who runs the local junkyard. Both characters grow over the course of the story, showing a progression and development rarely even present in mind-numbingly long think pieces.
The animation is simple and crisp, but completely appropriate to the themes and setting of the story itself. Much of the success of the film should also be credited to some wonderful voice work by a terrific cast. Eli Marienthal (you might know him as Stifler's brother from American Pie) gives voice to Hogarth, capturing all the wide-eyed wonder and incorruptibility of this particular child. Jennifer Aniston plays Annie, while Harry Connick Jr. is truly wonderful as the beatnik friend Dean. Christopher McDonald's inflection is perfect for the hypocritical and desperate for approval villain Kent Mansley. And finally, even though his speaking parts are limited and done through a voice modulator, Vin Diesel truly is the Iron Giant, and it's pretty clear in documentaries about the making of the movie that he had a blast in the role.
Don't discount Iron Giant because it's animated or a kiddie film. This movie is truly one for the ages and worthy of viewing over and over again, both for its simplistic beauty and for the delightful and thought-provoking story. Fair warning, though. You might want to have some Kleenex on hand. (Kim Hollis/BOP)
Click here to read selections 50-46.
Click here to read selections 45-41.
Click here to read selections 40-36.
Click here to read selections 35-31.
Click here to read selections 30-26.
Click here to read selections 25-21.
Click here to read selections 20-16.
Click here to read selections 15-11.
Click here to read selections 10-6.

Click here for an alphabetical list of all selections.