Top 50 Underappreciated Recent Films
25) Devil in a Blue Dress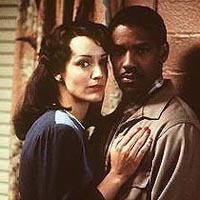 --Of all of the things that the larger audience missed in this film (an outstanding screenplay adapted from a wonderful book, stunning performances, and great direction), the greatest loss was that the potential series of "Easy" Rawlins films never made it past this first installment. Walter Mosley's LA-based, post-WWII African-American detective is fully realized here by Denzel Washington, inhabiting the role with great dignity and class. Yet the true standout performance comes from Don Cheadle, portraying one of the most frightening men you'd ever hope to avoid, "Mouse" Alexander. From the moment he steps into frame, you can feel the danger that surrounds him wherever he goes. Easy only calls on Mouse when he feels that there's no other way out; yet once he arrives, Easy finds events further slipping out of his control. The plot, regarding a missing white woman last seen at a blacks-only club, weaves honest issues of race and racism into a well-conceived detective story. Tense and entertaining, this film should not be missed. (David Meek/BOP)
--Usually film noir detectives have their hands full. Double-crossing friends, evasive answers, bullying thugs and uncooperative cops are just part of the job. What makes Easy Rawlins different is that he isn't a detective, doesn't want to be one, and has to deal with life as a black man in the 1940s. Denzel Washington does a superb job of showing the reluctance of a man who just wants to lead a normal life. Don Cheadle as Mouse is perfect as Rawlins' short-fused friend. What makes Devil in a Blue Dress stand out is Carl Franklin's perfect mood and pacing as a director. He shows us the atmosphere of the period, lets us in on the racial loathing, but still tells a thrilling story. In my mind, it isn't LA Confidential that's the Chinatown of the '90s but rather Devil in a Blue Dress. (David Parker/BOP)
24) Billy Elliott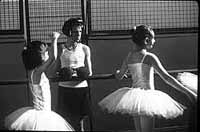 This movie tells the simple yet wonderful story of a boy trying to find his way in life. But he has some tough obstacles to maneuver, including his father, brother, community, and own self-confidence.
The impressive Jamie Bell plays our title character. He allows us to care about his struggles and become part of the cheering section for young Master Elliot. Billy is an 11-year-old boy growing up in England during the miners' strikes of the mid-1980s. His father and brother are both on strike against the mining company. Even though the family has little money, they send Billy to the local gym to learn boxing and try and make something of himself. This is where the story and Billy's life takes a dramatic turn.
A dance class sets up in another part of the gym. Billy becomes very interested in what's going on over there and eventually ends up spending his 50 pence a week on ballet lessons instead of boxing. Of course, his family disapproves and cuts him off from the training. However, his dance instructor, played by Academy Award winner (and nominee for this film) Julie Walters, encourages him in his endeavors and gets him a tryout with the Royal Ballet School.
Don't let the film's R rating scare you or even your kids that are Billy's age. The language is the only reason the movie gets that rating. And don't you think that coalminers usually use the F word a little bit? It truly is a feel-good movie that can teach youngsters about growing up. (Marty Doskins/BOP)
23) Best in Show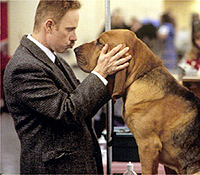 For years, my parents have been obsessed with the Westminster Kennel Club Dog Show that pops up on USA every year sometime in February. I never understood the appeal of it; the really ugly poodles won every year, and I'm pretty sure that what really happens is that USA has about a dozen or so actors on staff who annually play the same character, only with a different identity and a different dog. The personalities of these breeders are really that bizarre. It was only a matter of time, then, before someone decided that this whole thing practically wrote itself into a comedy movie script that was utterly hilarious. Luckily for us, this person turned out to be Christopher Guest, the man who wrote both This is Spinal Tap and Waiting for Guffman. As a farce of a dog show, an event which really is a farce itself, Best in Show does not disappoint. The cast of characters is ridiculously funny, from Eugene Levy and Catherine O'Hara as a bumbling husband with two left feet (no, really) and his overly frisky wife, to Parker Posey as the slightly intense dog owner who could really use a nice hot bath (and maybe some Prozac) to relax. With an admirable mix of blatant gags and more subtle humor, there isn't a single unfunny minute in this movie. (Zach Kolkin/BOP)
22) Heavenly Creatures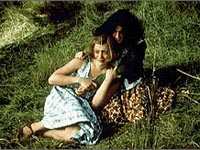 After making his name as New Zealand's King of Schlock, Peter Jackson did a strange thing. He decided to make a "real" film. For his subject matter, he chose the true story of two New Zealand teens who murdered one of their mothers in the 1950s. To the shock of many, he created a complex and moving film that proved that skill is skill, no matter where it's applied. Melanie Lynsky and Kate Winslet play the two teens, and both show early glimpses of the talent that they'd both be known for. Winslet in particular is brilliant as the more dynamic of the two friends. As the pair start to live more and more of their lives in a fantasy world of their own creation, the parents of the two start to worry about the healthiness of the friendship. When they try to separate the pair, how far will the girls go to keep their fantasies alive?
As director of this film, Jackson was nothing short of astonishing; in addition to the well-handled dramatic scenes, the fantasy sequences depicting the world that Lynsky and Winslet have created are dazzling. Heavenly Creatures has delights like this and more and is an excellent chance to see Jackson at the top of his game before he became the world-famous director he is. (Reagen Sulewski/BOP)
21) Searching for Bobby Fischer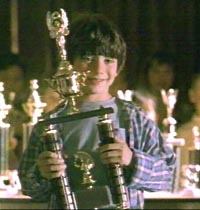 --Searching for Bobby Fischer is a gentle and subtle film about the relationship between a father and his son. It's also about chess. I don't think anyone is surprised that it wasn't a monster summer smash. What is surprising is how enjoyable the film is, both in terms of the drama and in terms of the traditional sports-film story. I know chess is not a sport, but the plot is still pretty much identical to a hundred-and-one baseball or football movies. Young prodigy with untamed talent trained by stick-in-the-mud mentor (and blacklisted rebellious mentor on the side) realizes his potential while retaining the raw talent that sets him apart form the rest. Enters tournament as underdog, cries because his dad doesn't love him, works his way through a stream of opponents and finally...well, that would be telling. But we're not exactly charting new territory here. It's just checkmate instead of home runs and touchdowns.
Good performances all round from a fine cast, especially Joe Mantegna as the father who has to come to terms with it all. As far as I'm concerned Searching for Bobby Fischer is the bests sports movie ever that's not about a sport. (Ash Wakeman/BOP)
--I don't think Todd Marinovich and his father sit down and watch this movie together very often; however, I think sometimes Todd watches it when he's by himself. Searching for Bobby Fischer is an extraordinary family movie about an ordinary family, the Waitzkins, and what happens to them after they discover their preteen son Josh is a chess savant.
Based the true story of the real Josh Waitzkin, who became a National Master (that's good) at age 13, director Steven Zaillian displays a deft touch in his directorial debut in telling a classic tale about reaching for greatness without losing yourself in the process. At the core of the film is the relationship between Josh and his parents, and the paradoxical dilemma that all parents face between pushing their kids too hard and sheltering them too much. That the drama plays out against the backdrop of the junior chess circuit is almost inconsequential; this is a universal theme with which anyone who has ever been a parent or a child can identify.
Max Pomeranc in the role of Josh gives one of the great child-actor performances of the last decade. In nearly every scene, and providing voiceover to some particularly compelling documentary-style footage of the titular Fischer, it is no small thing to say that little Max as little Josh carries the film. But because his main character is a child and a prodigy, there are adult characters orbiting him like satellites, and the acting performances here by Joe "Fat Tony" Mantegna, Joan Allen, Ben Kingsley, and Laurence Fishburne are critical to the development of the film's theme. As each of these important people in Josh's life tries to figure out what is best for him, the audience clearly understands the uniqueness and fragility of Josh's situation.
Searching for Bobby Fischer made only $7.3 million at the box office when released in 1993, making it a truly underappreciated film and a prime candidate for a revival all these years later at the video store. Watch this one with your kids, or with your parents. (Calvin Trager/BOP)
Click here to read selections 50-46.
Click here to read selections 45-41.
Click here to read selections 40-36.
Click here to read selections 35-31.
Click here to read selections 30-26.
Click here to read selections 20-16.
Click here to read selections 15-11.
Click here to read selections 10-6.
Click here to read selections 5-1.

Click here for an alphabetical list of all selections.